Feel like you're spending too much time at the ironing board doing touchup work? Instead of wasting time ironing individual garments, consider investing in a dryer with a steam cycle can take tackle an entire load of laundry with ease.
Finding a dryer that can meet all of your needs and has a steam cycle can be a little challenging, but we're here to help. With our lab-tested reviews, we've already done most of the heavy lifting for you. Below you'll find our list of the five best dryers with steam you can buy today.
For more detailed information about a particular model, just click through to read the full review.
Updated January 05, 2018
Advertisement - Continue Reading Below
The Maytag Bravos MGDB855DW is identical to the cheaper MGDB835DW in virtually every way: It's got a huge 8.8 cu. ft. drum, superb drying, and a bevy of cycles and customizable options. There's even a water hookup for steam cycles, plus a removable drying rack.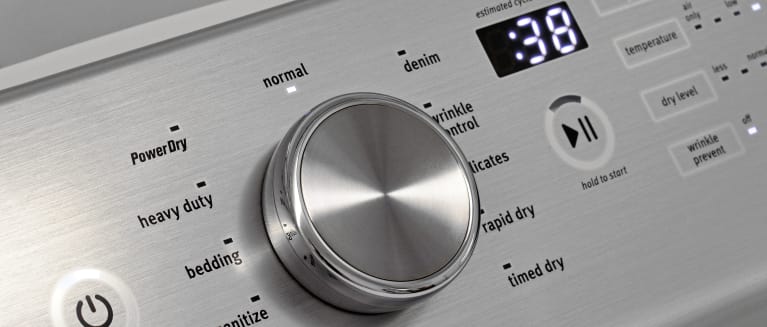 2
With a lengthy list of cycles, top-notch fit and finish, steam, a huge 8.8-cu.-ft. interior, and excellent performance, the MEDB855DW impressed in every way. Its giant drum is perfect for handling larger loads, cutting down on time spent in the laundry room, and its drying rack is great for those items you can't just toss inside and forget. If you're looking for outsized performance and capacity, look no further. See Gas Version or
Where To Buy
$989.99
Best Buy
Buy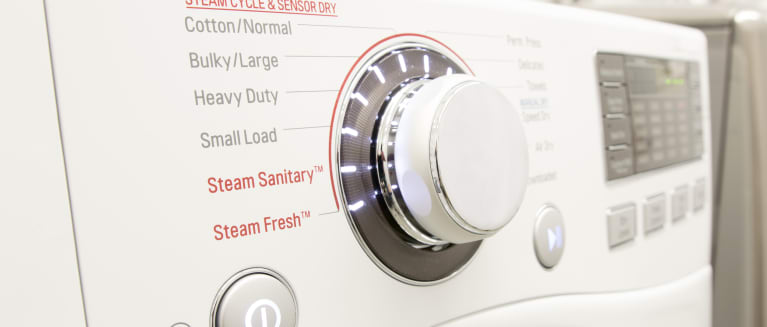 3
The LG DLEX3570W dryer is great at the basics, and it also has a host of useful extras that work. Yes, it gets a load of laundry 100% dry—but it also has quick cycles, and provides steam if you want it. It's affordable, too, and looks great whether you choose white or graphite. We only have two complaints: water for steam comes from a drawer instead of a plumbed hookup, and the smartphone app doesn't work well.
Where To Buy
$940.10
AppliancesConnection
Buy
$944.10
Home Depot
Buy
$944.99
Best Buy
Buy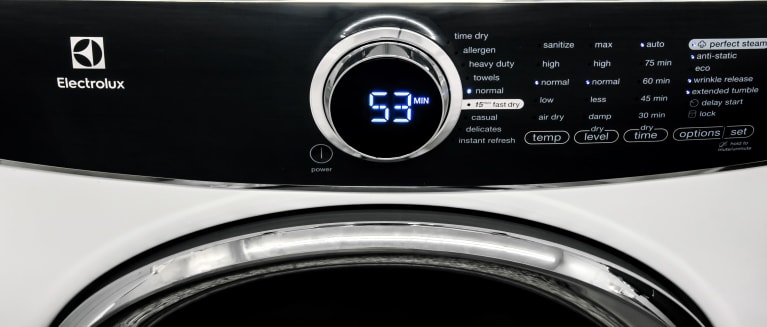 4
The Electrolux EFME617SIW earns our unconditional recommendation. Broad and useful cycle list? Check. Customizable options? Check. Huge 8-cu.-ft. stainless steel drum? Check. And to top things off, it not only dries clothes, but dries them at cooler temperatures than almost every other model we've tested. And it's affordable, too.
Where To Buy
$893.10
AppliancesConnection
Buy
$899.10
Home Depot
Buy
Advertisement - Continue Reading Below