It's safe to say that more Americans than ever are living in RVs, tiny homes, and urban apartments. Living spaces that stray from the traditional often lack the duct work to support a regular dryer, but that doesn't mean you're stuck with a laundromat or clothes line.
If you're among the two percent of Americans who needs a ventless dryer, your options are relatively slim. Fewer than ten models are available, and they can be hard to find in stores. If you're looking for the best ventless dryer, we'd recommend the LG DLEC888W (available at Home Depot for $899.10).
We spent the better part of a month testing five top-selling ventless dryers in our labs in Cambridge, MA. We dried nearly 50 loads of sheets, towels, shirts, and comforters—all to see which ventless dryer will give you the best performance, value, and features for your money. Here are our picks.
Updated January 22, 2018
LG DLEC888W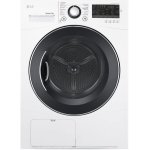 Where To Buy
$899.10
Home Depot
Buy
$899.99
Best Buy
Buy
LG DLEC888W
Best Overall
The LG DLEC888W condenser dryer (MSRP $999) is our top choice for a ventless dryer. Not only did it dry well, but it was more spacious and easier to use than the other models we tested. Retailing for around $900, its 4.2-cu.-ft. drum offers the most space for the money, while remaining just 24 inches wide. On the usability front, this LG simultaneously offers the most features and the easiest-to-use controls.
All the standard cycles on this dryer are easy to read and understand, and it had the most responsive buttons of any of the ventless dryers we tested. You can create custom cycles or even download new ones from an NFC-equipped phone.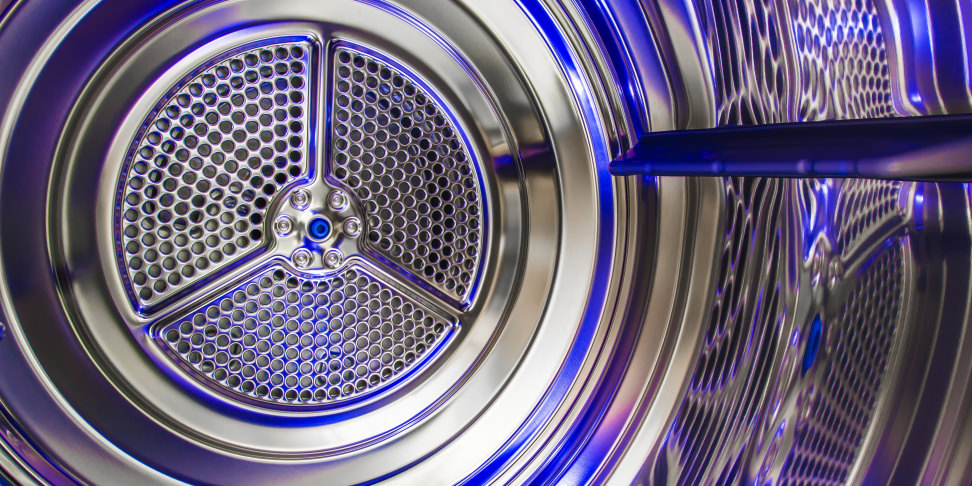 When it actually came to our drying tests, which involved weighing standard loads of laundry before and after drying, the 888 hit the mark on every cycle. Sensor Dry got our test laundry into a wearable state in a little over two hours. While it wasn't the fastest dryer on the list, it did have consistent cycle times. Our philosophy is that we'd rather have consistently moderate drying times than a roll of the dice.
But one cycle—Bulky Item—pleasantly surprised us. In an hour and 15 minutes, it got a comforter 99.7% dry. That's hard for a standard dryer, let alone a condenser model!
GE GFT14ESSLWW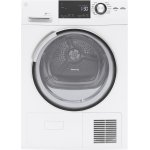 Where To Buy
$899.10
Home Depot
Buy
GE GFT14ESSLWW
The GE GFT14ESSLWW (MSRP $999) is the Boy Scout of our roundup, as it's prepared for just about anything. First of all, it has a drying rack, which opens up a whole new world of items that can go into the dryer—ranging from stuffed animals to soaked boots. As for cycles, the GFT14ESSLWW has 13 of them, so you'll be sure to find the one that suits the situation.
Unlike most other ventless dryers, which must send excess water into a drain pipe, the GE offers the choice of a tank and a drain hose. If a drain isn't handy, its tank empties just like a dehumidifier. Just remember to empty it out after every cycle.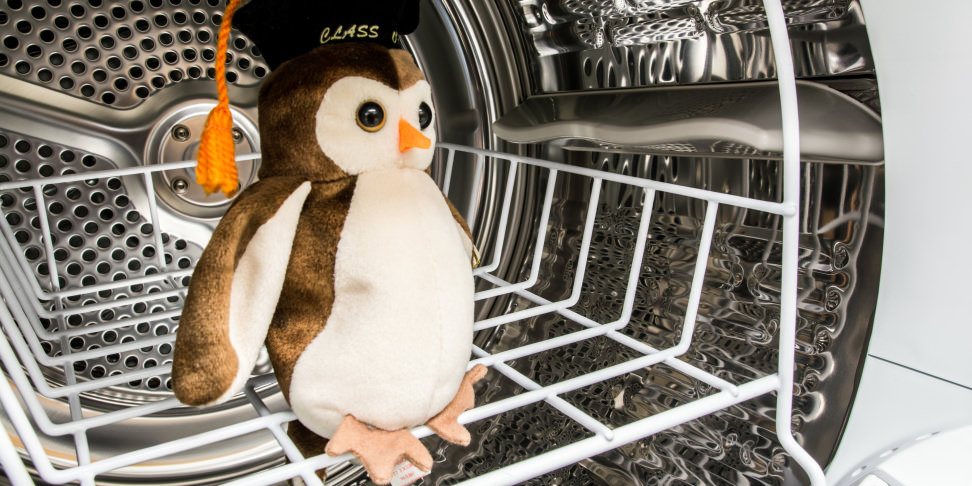 Performance wise, though, the GFT14ESSLWW didn't have what it takes to claim the top spot. While everything from comforters to towels came out perfectly dry, the cycle times tended to vary. The widest gap happened on the Heavy Duty cycle: Drying the same standard loads, one took an hour and six minutes, but another finished after an hour and 43 minutes. A Normal cycle kept us waiting, on average, for an hour and 45 minutes.
Still, we think the GFT14ESSLWW is a great solution for families who live in small spaces, but enjoy a long list of activities.
Before you buy: What you should know about ventless dryers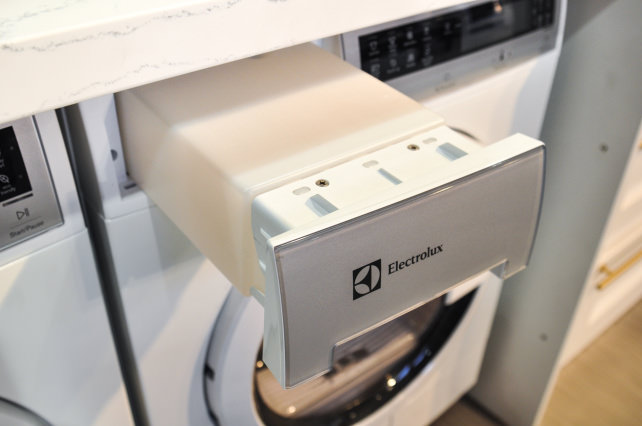 No matter which ventless dryer you buy, you should know a few things first. All the models we tested were compact—a standard width of 24 inches wide. That means they can fit about half the amount of clothes as a traditional dryer. This is one of the reasons why ventless dyers are great for mobile and tiny homes.
However, they're not fast. A normal dryer typically takes about an hour to dry clothes, but a ventless dryer can take anywhere from two to four times as long. That's because they can't vent moisture outside. Instead, moisture is either drained out or collected in a tank. They also get hot enough to warm a room, so remember that if you live in a small space.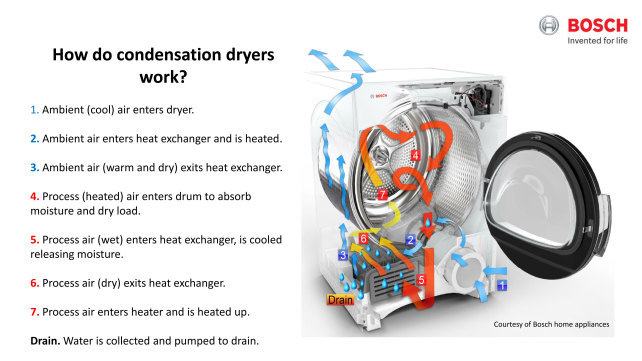 If you're willing to tolerate the idiosyncrasies of these space-saving dehumidifiers on steroids, read on. Those still on the fence can read our comprehensive guide on how ventless dryers work to find out more.
One more note: All the models we tested also require a traditional 240V dryer outlet. Models that plug into a standard outlet exist, but just aren't powerful enough to get clothes dry.
---
Other ventless dryers to check out
Bosch WTG86401UC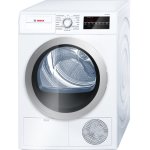 Bosch WTG86401UC
Worldwide, Bosch has long been the king of ventless dryers, so the Bosch WTG86401UC (MSRP $1,199) arrives with a distinguished pedigree. This dryer impressed us with a typically German precision on its Delicate and Quick cycles. Both lasted forty minutes and both got our test laundry 99% dry.
But—Quick and Delicate cycles aside—the 86401 had two issues that kept it from claiming the top spot. First, this dryer took the longest by far to dry our comforter–_three_ hours and 45 minutes. That's almost worth a trip to the laundromat. We also found the touch controls to require a few button presses to respond, especially when our fingers were wet.
While the Bosch's idiosyncrasies might be a positive for some users—those who have the option to line dry comforters, for example—the machine's negatives were strong enough to keep it from our #1 spot.
Blomberg DHP24412W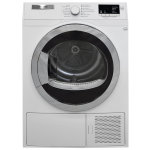 Blomberg DHP24412W
Unlike any other machine on this list, the Blomberg DHP24412W (MSRP $1,599) uses a heat pump to get clothes dry. To learn more about how it works, you can read our full review of the product. It is also sold at P.C. Richard under the Beko brand name.
Basically, heat pump dryers use a lot less energy than their condenser counterparts, which makes the DHP244112W a good choice for those looking to save electricity. But heat pump dryers also cost a lot more up front. Even on sale, this Blomberg costs almost $400 more than our top-rated LG.
It also stumbled twice during our testing: The Quick 30 Min Cycle only got our test laundry 76% dry, leaving it sopping wet to the touch. The Bulky cycle lasted two hours, but only achieved 82% dryness. That means it's a tough sell for all but the most environmentally conscious consumer.
Electrolux EIED200QSW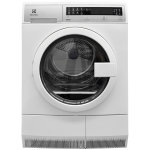 Electrolux EIED200QSW
The Electrolux EIED200QSW (MSRP $1,099) is a good day-to-day dryer, but still might require occasional trips to the laundromat. This dryer did a fine job drying everything except our test comforters. After two hours and 19 minutes, the comforter was only 54% dry. We had to take it out, flip it around, and put it through another cycle before it was usable. That means it needs more time—and labor—than any other compact model to get bedding ready.
The rest of the test results were fine. The Normal cycle took an hour and 45 minutes to get our test laundry 98% dry. The Fast Dry took 40 minutes to remove 95% of moisture from a small load. Other than that, there's nothing to make this Electrolux stand out. It has no rack or special features to make it more attractive to consumers.