laundry
Admiral ATW4675YQ Washing Machine Review
We salute this Admiral's simplicity.
$449.00 MSRP
The Admiral ATW4675YQ (MSRP $449) is one of the most affordable washing machines out there. At the risk of sounding ungrateful, we should stipulate that it is a great privilege to own a washing machine and to live somewhere with enough infrastructure to support it. That being said, it should come as no surprise that you're getting what you pay for with this Admiral: a metal box with a drum that fills up with water and spins at various speeds.
With its pole agitator, the ATW4675YQ will tame stains with brute force, and potentially wear out your clothing. It's all washed away by gallons upon gallons of water—far more than the majority of machines we test. If you're shopping for a washer that gets your clothing clean and don't care about anything else, this maybe for you.
To read our full review of this washer's matching dryer, the Admiral AED4675YQ, click here.
Design & Usability
If it ain't broke...
The Admiral ATW4675YQ harks back to an earlier era of washing machine design. A lot of consumers are looking for a washer similar to their mother's or even their grandmother's. With this Admiral, they'll find it. This machine is generic in every way. It has a three-dial control system on the outside and a powder-coated interior on the inside.
The dials on the left control load size—a proxy for how much the tub fills up—and wash temperature. Use these correctly, and read the owner's manual if you don't understand them. Your laundry will thank you. The dial on the far right controls the cycle selection.
Essentially, the Admiral has only three cycles to chose from: Casual, Normal, and Delicates. Normal and Casual are further subdivided into heavy, medium, and light. It's all very straightforward, as long as your definitions of heavy, medium, and light are the same as this washer's.
The only usability issue we encountered was with the pole agitator. With such a large implement sticking out of the center of the drum, you can't just dump all your laundry inside. Instead, you need to place your clothes around it, which can be time consuming.
Performance & Features
Hulk—er, Admiral—Smash!
The Admiral showed off an impressive amount of power. There's a reason why the pole agitator technology has stayed around for so long. If we had to personify the ATW4675YQ washing clothes, it'd be as a boxer knocking out stains with a haymaker. However, the old ways do have their drawbacks.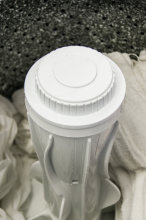 Those stains that are getting beaten into submission are attached to your clothing. It's inevitable that your laundry gets a little more worn every time it goes through the wash, but this machine is more harsh than time should be.
This older design is also a water guzzler. Right now, every drop of water that ever will be already exists. A whole lot of it will be passing through the ATW4675YQ. We estimate that this machine will cost you roughly $85 a year. To put that in perspective, that's $850 over ten years. Consider that a $1,000 high-efficiency front loader usually costs $30 a year to run, and you could've spend the extra $550 you spent on water on a better washer instead.
On the features front, there's not much to say—this Admiral has none.
For in-depth performance information, please visit the Science Page.
Comparable Products
Before you buy the Admiral ATW4675YQ, take a look at these other washing machines.
Conclusion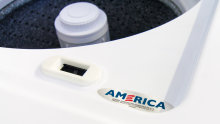 Back to basics
In a world where gadgets get the limelight, it's nice to see a machine that adheres to the basics. The Admiral ATW4576YQ is what it is: a cheap washer. It has no frills. It has no features. You just stick your laundry inside and press the start button. The pole agitator will knock stains out of your clothes. It may fray your clothes and waste water, but that's to be expected. You're getting what you pay for.