laundry
Amana NFW5700BW Washer Review
One small step for Amana.
$794.00 MSRP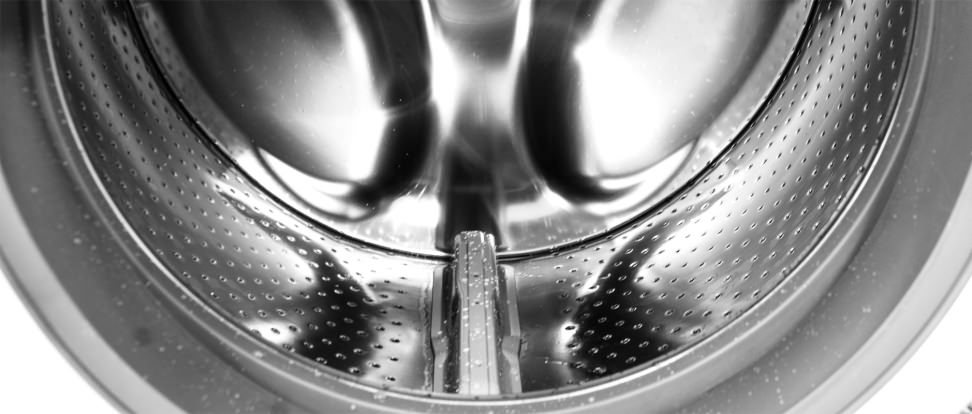 If you're having trepidations about entering the world of front-loading washers, the Amana NFW5700BW (MSRP $799) is a good first step. It has only five cleaning cycles, one of which is simply a cold-water wash. It's all very straightforward, and a 4.1 cubic foot drum is on par with other machines in its class.
In terms of pure cleaning performance, the NFW5700BW is a bit below average, and its special features are nonexistent. But if you're into no-nonsense appliances, this Amana is as basic as front loaders come. It can also be had for as low as $750. For that price, however, you could get the LG WM3050CW, which did better than the Amana across our tests.
To read our full review of this washer's matching dryer, the Amana NED5700BW, click here.
Design & Usability
Ebony and ivory wash together in perfect harmony.
As you can see, the Amana NFW5700BW is black and white. The handles and knobs you interact with are black, while everything else is white . If you're looking for a washer that appeals to your inner Surrealist, you've come to the wrong place, since all controls are placed right where you'd expect them.
Simplicity is this washer's strong suit...
Simplicity is this washer's strong suit, and with only five actual wash cycles, there's very little room for confusion. The easy-to-read control panel lights up in bright green, and pleasant chimes let you know when a wash is done.
In terms of actually using the NFW5700BW, we found a few bugs. The touch controls are not as responsive as mechanical buttons, and the fit and finish matches the MSRP. For instance, you'd probably never lean against the control panel, but if you did you'd feel it cave in a little. The finish on the door handle felt a little sharp. We see these as minor flaws, but they add up.
Performance & Features
This Amana achieves adequacy.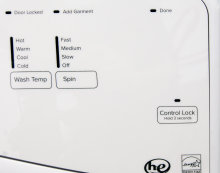 How well does the Amana NFW5700BW clean clothes? Our tests show it does a descent job. Even when considering its budget status, this Amana seems up to everyday tasks.
Amongst all the washing machines we've ever tested, this one rides the line between average and good. It's very efficient, and the Normal and Heavy Duty cycles ran about an hour each. However, it has middle-of the-road cleaning performance. It did well with protein-based stains like blood, but poorly against red wine. A 4.1 cubic foot drum means the NFW5700BW is large enough to accommodate a family's worth of laundry, but that's the only feature that stood out on this machine.
Overall, what we have here is a generalist, ideal for folks who select "Normal" and walk away. The Amana NFW5700BW will please most people most of the time, but it's not for laundry perfectionists.
For in-depth performance information, please visit the Science Page.
Comparable Products
Before you buy the Amana NFW5700BW, take a look at these other washing machines.
Conclusion
You'll get what you pay for.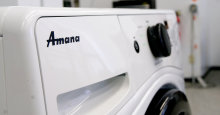 If you buy the Amana NFW5700BW, you'll get a reasonably-priced front-loading washing machine. With a street price that hovers around $750, this isn't a bad washing machine. The 4.1 cu. ft. drum puts the Amana on the larger side of entry-level front loaders. It doesn't have any specialty cycles nor does it get hot enough to sanitize items, so it may not be suitable for a family with those needs. And the similarly-priced LG WM3050CW does a better job at pure performance.
The design is straightforward with no frills. For most people, that's a plus. The cleaning performance doesn't stand out, but for most people, it will do the trick.
Our editors review and recommend products to help you buy the stuff you need. If you make a purchase by clicking one of our links, we may earn a small share of the revenue. Our picks and opinions are independent from any business incentives.