laundry
Frigidaire Affinity FAQE7111LW Dryer Review
Seven cubic feet of savings
$799.00 MSRP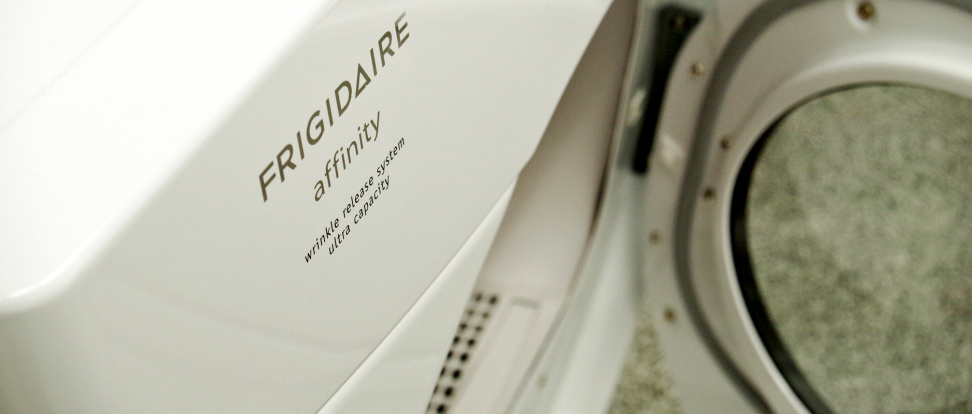 The Frigidaire Affinity FAQE7111LW (MSRP $799) is a budget dryer in every sense of the word. Though sale prices below $480 make it the cheapest stackable dryer on the market, it doesn't stand out in any other way. None of its cycles really aced any of our tests, extra features are nonexistent, and you'll definitely have to put a comforter in more than once to get it dry.
In fact, the best thing about this dryer is the fact it can be stacked on any number of excellent matching washers. The Frigidaire Affinity FAFW3801LW, for instance, is an extremely good value. So, if you purchase the set, you'll at least get a great washer. Even so, if you can afford another hundred dollars, we recommend you step up to the FAQE7001LW, an otherwise-identical dryer that adds an automatic dryness sensor for better performance.
Design & Usability
The price is what's attractive.
The Frigidaire FAQE7111LW is all white enamel, inside and out. It's visually indistinguishable from the Frigidaire Affinity FAQE7001LW, although the 7001 includes an automatic drying sensor while the 7111 does not.
Plain design does offer some advantages. The control panel is very clean with an easy-to-read timer. All the buttons are clearly labeled and have good mechanical action. There's little chance for confusion or picking the wrong cycle, since there are only six of them: Normal, Casual, Bulky and three different Timed Cycles. The door is reversible, which is pretty standard but still a nice touch.
The only special feature here is a drum light, which is very helpful in dark basements and laundry rooms.
Performance & Features
Nothing new to see here.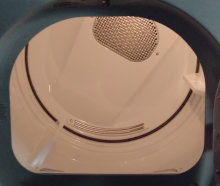 This average-looking dryer offered average performance. The Normal cycle left our test laundry slightly damp. Absent any noticeable wet spots, a little moisture actually helps keep wrinkles at bay. The cycle took an hour to complete, which is serviceable. The Casual cycle also took about an hour and got very similar results to the Normal cycle. On both cycles, we got similar results across multiple tests—which is exactly the consistency we want to see in a dryer.
However, this machine struggled with its Bulky cycle. Cycle times ranged from fifty minutes to an hour and a half, and the cycle never got our test comforters more than two-thirds of the way dry. Even considering that it's common practice to flip a comforter and run a Bulky cycle again, we can't give this cycle a pass since it hit temperatures north of 170°F. That's hot enough to cause fabric wear over repeated dryings.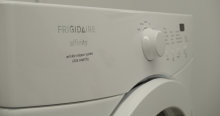 Aside from customizable temperature settings and a wrinkle release feature, which tumbles laundry every few minutes after a cycle completes, there aren't any real special options or cycles.
For in-depth performance information, please visit the Science Page.
Comparable Products
Before you buy the Frigidaire Affinity FAQE7111LW, take a look at these other dryers.
Conclusion
An affinity for saving money
We can talk about drying performance and features until the cows come home, but none of that matters if a machine is out of reach for most consumers.
With sale prices as low as $479, the Frigidaire Affinity FAQE7111LW is one of the most affordable dryers on the market—and certainly the cheapest stackable dryer we found. Although its raw performance numbers are mediocre at best, it's an appealing choice in its price range.
If you're buying a washer/dryer pair, you should also take into account that the matching washer is an outstanding value for the money. That alone makes the FAQE7111LW worth checking out.
Our editors review and recommend products to help you buy the stuff you need. If you make a purchase by clicking one of our links, we may earn a small share of the revenue. Our picks and opinions are independent from any business incentives.