laundry
Kenmore 22342 Washing Machine Review
Stirring up laundry in a good way
$449.99 MSRP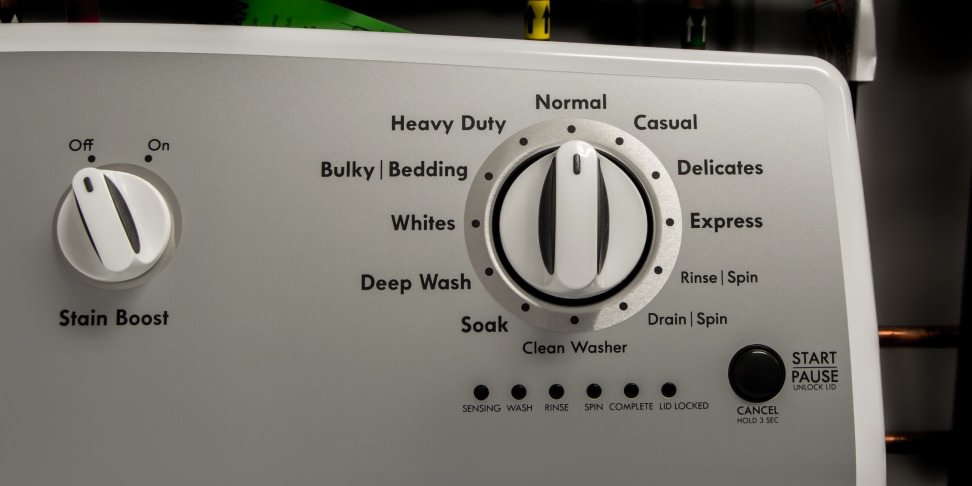 Credit: Reviewed.com / Jonathan Chan
The Kenmore 22342 (MSRP $449.99) is a low-cost, top-loading washing machine with old-school appeal.
We had it in our labs for a week, and we put it to the test. In the end, we found that its low cost doesn't detract from overall results: Despite being an entry-level product, the 22342 exhibits stain removal that's above average. Yes, it uses a lot of water to achieve that, but that's expected from this kind of appliance.
With its pole agitator and options for cold water washing, the Kenmore 22342 delivers a traditional washing machine experience for the lowest upfront price. But its heavy water use and tiny capacity means that you might be better off spending a little more now to get a lot more value in the long run.
To learn about the matching dryer, read the the Kenmore 62342 review.
What Features Do You Get?
It does, indeed, have features
In order to sell a washer for under $500, Kenmore had to make some sacrifices. That's not to say that the 22342 is completely devoid of features: There are options for single and double rinses, and a wash cycle for tap cold water. It also has a triple-action agitator to bash stains out of the clothes. And you'll know when the machine is working because, when in action, it's loud enough to hear in another room.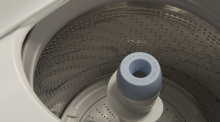 A Deep Wash cycle is designed for people who feel that their laundry just isn't getting wet enough inside high-efficiency washers. Just remember that lots of water will dilute your detergent, and your clothes might not get as clean.
Another downside is the downsizing your capacity takes when there's a pole sticking up out of the middle of the drum, which makes this Kenmore a full cubic foot smaller than many of its top-load competitors. A small capacity means more cycles, which means less time for doing things other than laundry.
When it actually comes to using the Kenmore 22342, anyone who has used a washer in the past half century will know what to expect. It has eight wash cycles and four modifiers: temperature, soil level, rinse, and stain boost. Newcomers to the American laundry world will need to peruse the manual to find out the optimum settings, but laundry veterans will know exactly what they want.
Does it Clean My Clothes?
Slightly above average, but still not enough
The Kenmore 22342 has a slightly above average stain removal score. That's great considering it's well below average price tag. However, like all traditional agitator washers, this Kenmore gets stains out with physical force. That's why a high-efficiency machine can offer better cleaning and less clothing wear. For the same price, the Kenmore 25132 (MSRP $499) stands as the next step up. It has more space for laundry and, without a pole agitator, does less damage to your clothes.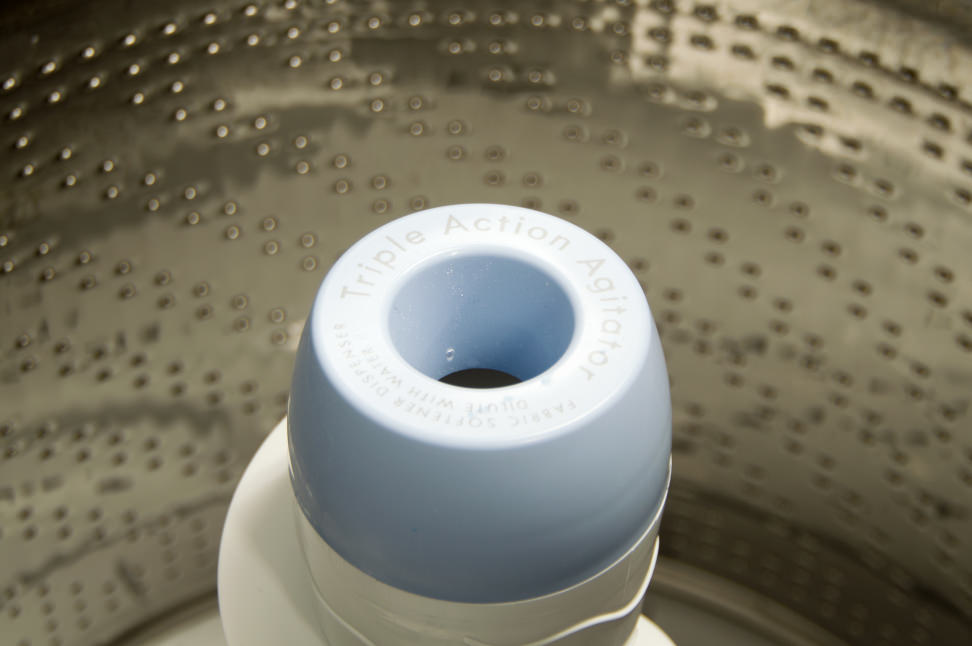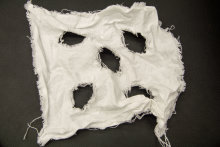 Speed is the tradeoff. The old-fashioned 22342's Normal cycle took only 42 minutes– that's 15 minutes quicker than the more modern 25132. In that time, the 22342 showed it had the chops to deal with protein-based stains, like cocoa and pig's blood. This pattern held true on all cycles, but it was particularly highlighted on Normal. Above average water usage also held true across all cycles.
The Whites cycle was the most costly to run, due to the need for 11 gallons of hot water. However, that hot water was not wasted. The Whites cycle, on the hottest setting and two rinses, showed itself to be the best the 22342 had to offer. It removed 9 percent more stains than the Normal cycle.
Although the 22342 has a low upfront cost, the long-term costs might give you pause. Based on national averages, the 22342 will cost around $56 a year in water and electricity to run. That's not bad for a traditional agitator machine. Still, over the course of the lifetime of the machine, that can easily add up over $250 more than a higher-efficiency machine—effectively negating any upfront savings.
For in-depth performance information, please visit the Test Results Page.
Comparable Products
Before you buy the Kenmore 22342, take a look at these other washing machines.
How Long is the Warranty?
For one year after the date of purchase, the Kenmore 25132 is covered for any defects of material or workmanship. With proof of purchase, free repair or replacement may be granted at Sears' discretion.
Not an Investment
The "for now" washing machine
When you need a washer now and you don't have a ton of cash, the Kenmore 22342 is worth betting on. It doesn't cost much up front, has effective and quick cycles, and looks familiar.
However, if you're looking for a better long-term value, there are other machines that fit the bill. Any high-efficiency machine will pay for its price premium with lower water bills, and a larger machine will let you wash more clothes in less time. If you're standing at Sears, check out the similar Kenmore 25132—which does a better job cleaning for the same price. Both machines get similar user reviews on Sears' website.
When you combine all the 22342's plusses and minuses, you get a washer that's designed for first-time homebuyers, landlords, and people looking for a cheap replacement unit. If you have more to spend on a washer, though, we recommend doing so.
Our editors review and recommend products to help you buy the stuff you need. If you make a purchase by clicking one of our links, we may earn a small share of the revenue. Our picks and opinions are independent from any business incentives.