laundry
Kenmore 27102 Washing Machine Review
The no-frills 27102 cleans clothes without forcing you to pay for extras.
$769.99 MSRP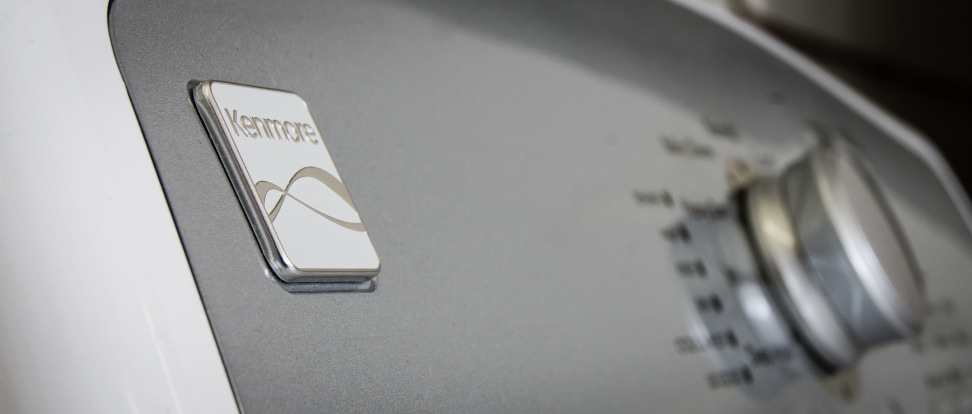 Near the bottom of Kenmore's high-efficiency washer lineup you'll find the 27102 (MSRP $769.99). It's one of the company's most affordable high-efficiency machines and, despite the economical use of water, does a good job cleaning clothes (unlike the 22102 or the 23102). There are some drawbacks: At only 3.8 cu. ft., the drum is small, and there's no quick wash cycle. But sale prices as low as $540 and miserly hot water use make this an okay washer for those on a budget.
To read our full review of this washer's matching dryer, the Kenmore 67102, click here.
Design & Usability
Puts your washer on autopilot
The 27102 is far easier to use than cheaper Kenmores. Like many other modern washers, it automatically picks the best options for wash temperature, soil level, and spin speed based on the cycle you choose. Cheaper machines, like the 22102, force you to make those decisions based on your own knowledge. If you think you're smarter than your washer, the 27102 still lets you change the preset options.
In place of an old-school agitator pole, the 27102 uses a high-efficiency impeller at the bottom of the drum to clean your clothes. At the top of the drum you'll find the pull-out detergent dispenser, a rather inconvenient spot considering it's below the metal lid, which itself has a tendency to slam.
Performance
There are missing features, but what's there works well
The 27102's Normal cycle took just 41 minutes to clean clothes, which is about 10-20 minutes less than we usually see. Luckily, those are 41 minutes well-spent. Stain removal performance with the Normal cycle was above standard for sweat, blood, cocoa, and red wine stains. In fact, the 27102's Normal cycle is—by our measurements—altogether better than the Heavy Duty cycle, despite the Normal cycle's reduced wash cost and gentler wear on clothing.
Which cycle, then, to use for the most stubborn stains? That would be Whites, the strongest cycle of all. Whites removed 5% more stains on average than the Normal cycle, and was the only cycle to do an acceptable job removing dirt. This extra performance does come at some cost: Each Whites cycle is twice as expensive in electricity and water than a Normal cycle, and will wear down clothing 50% quicker.
For delicate clothing, don't be tempted by the Delicates cycle. Instead, go with Casual. They're almost equally gentle, but the Casual cycle will draw out 6% more stains yet cost a few cents less per load. There is no Quick cycle, but the Normal cycle was plenty fast enough for our liking.
Like most top-loaders, this Kenmore uses more water than most front-loading machines—we estimate this one will run the average family around $50 per year. That's only about $20 more a year than the most efficient front-loaders we've tested, so it's relatively efficient. The 27102 wasn't great at spinning excess water out, which means more work for your dryer.
For in-depth performance information, please visit the Science Page.
Comparable Products
Before you buy the Kenmore 27102, take a look at these other washing machines.
Conclusion
Budget friendly, in both the short- and long-term
With an excellent, quick Normal cycle, the Kenmore 27102 is an effective and affordable washer for everyday use. It's got very few frills, but equally few drawbacks. That's why we recommend it to anyone looking for a budget top-loader. Performance-wise, it's a night-and-day difference from the least expensive washers we've tested, but the 27102's sale price of around $540 won't break the bank. If you're looking for something a tiny bit larger that has a few more features, we also suggest the GE GTWN5550DWW, which slightly outperformed the Kenmore.
Our editors review and recommend products to help you buy the stuff you need. If you make a purchase by clicking one of our links, we may earn a small share of the revenue. Our picks and opinions are independent from any business incentives.