laundry
Kenmore 67102 Dryer Review
Old-school charm, new-school tech
$769.99 MSRP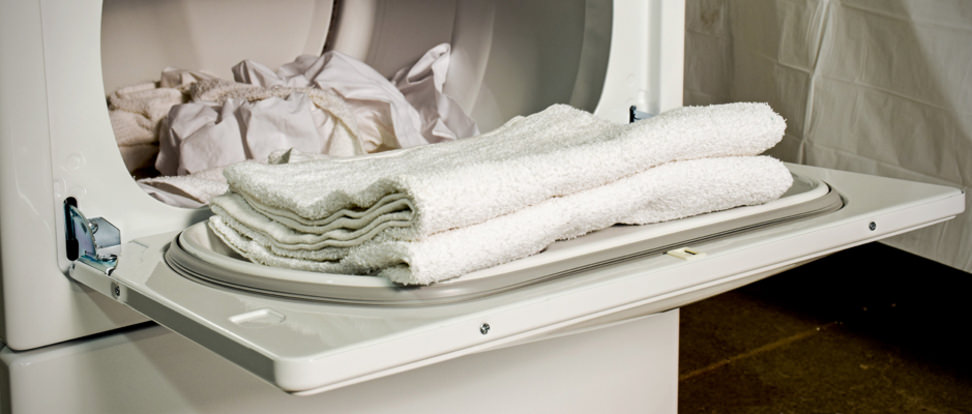 Ever find yourself mixing old ideas with new? Do you still call your set of golf drivers "woods," even though they're made of titanium? Do you prefer driving a stick shift for the control it offers? Are the blades of your push lawnmower human-powered? If so, this may be the dryer for you.
The 7.5 cu. ft. Kenmore 67102 (MSRP $769.99) is a dryer with a design that invokes a bygone era. This model's drop-down door and paltry cycle selection would've been state-of-the-art several decades ago. Still, it employs modern day sensors to help ensure that your clothes get dry. The 67102 accomplishes day-to-day drying well enough, but—like an old dog—comes up short when asked to perform specialty tricks. Not that you'd use an old dog to dry your laundry....
Design & Usability
The Lowdown
The Kenmore 67102 dryer has a "hamper" door that opens downward, unlike most modern dryers which open to the side. With a door that opens into the room, there's no need to worry if the machine abuts a wall—but you should make sure your kids don't use it as a stepstool. This Kenmore also has a drum light, so you don't have to place it near a window for lighting. There are few places the 67102 won't fit.
A hamper door is a mixed blessing: It's easier to load laundry, since you can drop wet clothes onto the door and push them in. But it's harder to unload laundry because a fully-opened door means you have to stand an additional 15 inches away from the machine. The lack of a pedestal kit means you'll have no choice but to hunch over to fetch your laundry.
You could use the door as a place to fold laundry, but we felt the door felt flimsy enough that large loads may be too much for it. Either way, the hamper door is making a comeback, as evidenced by new models from LG.
Overall, this appliance doesn't feel like a luxury product. Nor should it: Selling prices are around $570, far cheaper than the majority of dryers out there.
Performance & Features
A single cycle that works
Boiled down, the Kenmore 67102 really only has one cycle: Auto Dry, which can be set to More, Normal, or Less.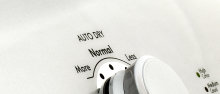 With Auto Dry set to Normal at Medium, our test laundry dried in about an hour. The same thing happened when we lowered the temperature to Delicate. The Normal Auto Dry is the 67102's strongest asset. A dryer should get your clothes to a wearable state in a timely fashion, and this dryer does just that.
The 67102 only faltered on the tough comforter test. We wet a comforter and set the dial to Auto Dry More. Although the cycle finished up in only 38 minutes, the comforter came out only half dry. We see this a lot, since it's common practice to flip a comforter and place it in for another round. Keeping that in mind, after another round the comforter was completely dry, but it would have been nice for a single cycle to do it all.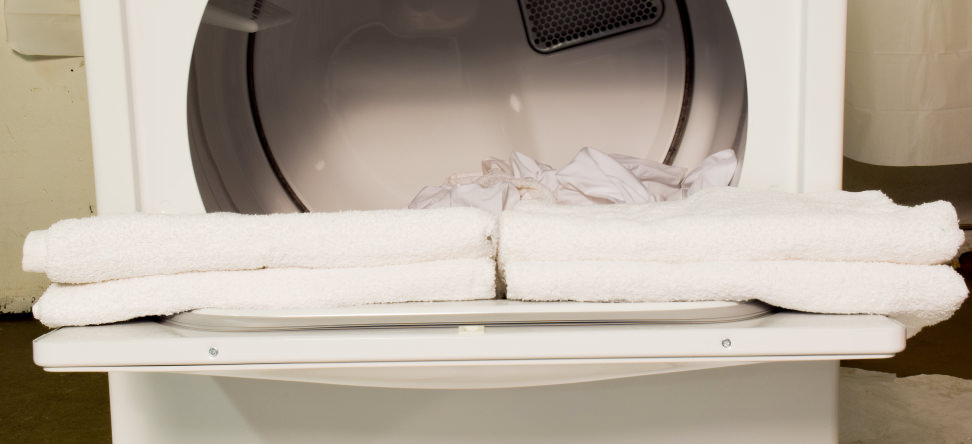 As for features, this dryer doesn't have many. The only feature you can enable is Wrinkle Guard, which tumbles the laundry every 90 minutes after a cycle is over. The Kenmore lists the ability to turn the End-of-Cycle signal on and off as a feature, but that's hardly a selling point these days. However, yet again, we need to keep in mind that this dryer sells for less than half the cost of other models we've tested.
For in-depth performance information, please visit the Science Page.
Comparable Products
Before you buy the Kenmore 67102, take a look at these other dryers.
Before You Buy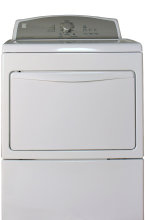 A dryer for minimalists
Ladies and gentlemen, what we have here is a big white box that gets hot. For large chunk of people, that's good enough. Sure, everything from the buttons to the door feel cheap. But guess what? This machine is cheap, at under $600.
The Kenmore 67102 is an adequate dryer for normal mixed loads. However, because it really only has one cycle, it stumbled when faced with special tasks like quick drying or comforters. Wrinkle Guard is convenient, and so aren't the drum light and hamper door. Did we mention it's less than $600?
Our editors review and recommend products to help you buy the stuff you need. If you make a purchase by clicking one of our links, we may earn a small share of the revenue. Our picks and opinions are independent from any business incentives.