laundry
Kenmore Elite 81472 Dryer Review
What's in a name? That which we brand Kenmore Elite 81472, by any other name, would dry as well.
$1,299.99 MSRP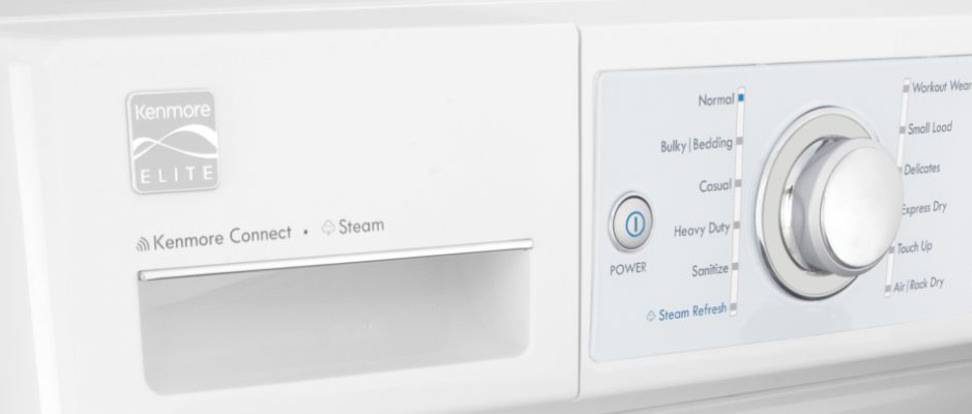 Introduction
The Kenmore Elite 81472 does a superb job. It offers effective drying, especially with its excellent Bulky cycle and Express Dry feature. It also has a great variety of customizable options, as well as a control panel that's very easy to use. Its main drawback is an MSRP of $1299.99. For that price—or even a $1130 sale price—we'd expect perfection. Unfortunately, that's not the case.
For those interested in buying this item as a pair, the Kenmore Elite 41472 also performed very well. Like its wetter counterpart, this particular dryer is an updated model based on the LG DLEX3470V. Since it's a Kenmore, you're dependent on Sears to find a sale price. Without the benefit of any discounts or competitive retailing, the comparable LG may actually turn out to be a better value.
Design & Usability
Elegant design meets sleek navigation.
The Kenmore Elite 81472 looks modern, not to mention expensive. The blue tinted backing for the controls and the gray and steel highlights make this appliance more elegant and visually interesting than the average white dryer. That said, this machine commits one important design faux pas. Having white enamel instead of stainless steel for the interior is very disappointing, given the enamel's proclivity for flaking and rusting over time.
Though the attractive controls for extra features are a little hard to read, the two-column layout for the preset cycles, highlighted by blue indicator lights, is very easy to see, and the cycle knob is also quite sturdy.
More often than not the door would bounce back open.
The massive door on this Kenmore may be sleek and shiny, but that doesn't necessarily mean it's going to work as well as it looks. Sure, it opened easily enough, but when we went to close it, more often than not the door would bounce back open. Inevitably, we just began slamming the door shut to ensure closure—a frustrating design flaw in an otherwise attractive machine.
Performance & Features
This dryer does more than just get the job done.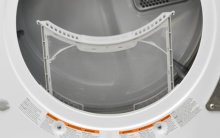 With consistent drying times and excellent overall results, this Kenmore is a very adept machine. All three of the preset cycles that we tested consistently finished in about an hour, and every cycle got almost all the moisture out of our materials. It also managed to do this in a reasonable amount of time, which means that you won't be spending your entire day doing laundry.
If variety is the spice of life, then this dryer will keep your chore time well-seasoned. The 13 different cycles cover all the usual bases, like Heavy Duty and Delicate, but also include a Workout Wear cycle for the fitness nut, or a Sanitize cycle for those with really curious children. Meanwhile, the Steam Refresh cycle theoretically removes odors and wrinkles from clothes that don't necessarily need a full wash.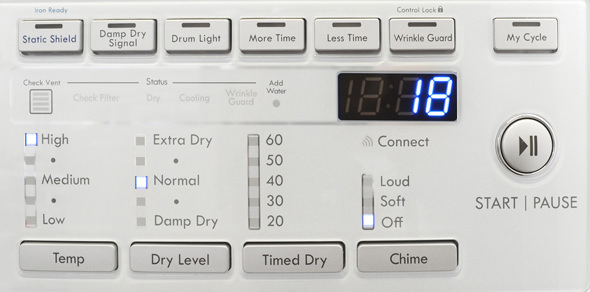 If you want to use one of the preset cycles, you have the option to set the dryness level to one of five different points ranging from Damp Dry to Extra Dry. Alternatively, for those who prefer the manually timed options, the temperature can also be set to one of five heat levels.
Comparable Products
Before you buy the Kenmore Elite 81472, take a look at these other laundry.
Conclusion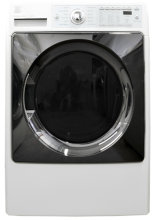 But what about that big price tag?
Despite its flaws and its price tag, The Kenmore 81472 is still an excellent dryer. It's a slightly more refined version of another quality appliance, the LG DLEX3470V. It has lots of features, steam capabilities, and a very attractive finish too.
Though they don't carry the Kenmore label, there are quite a few other machines out there that dry clothes just as effectively—if not more so—on certain cycles. If you're tired of comparison shopping and just want to swallow the cost, you won't go wrong with the Elite 81472. If, however, you're looking for a bargain and Sears isn't having a sale, it's best to look elsewhere.
Our editors review and recommend products to help you buy the stuff you need. If you make a purchase by clicking one of our links, we may earn a small share of the revenue. Our picks and opinions are independent from any business incentives.