laundry
LG WM3050CW Washing Machine Review
LG rebuilt it. They had the technology. It's... The Seven-Hundred and Twenty Dollar Washer.
$799.99 MSRP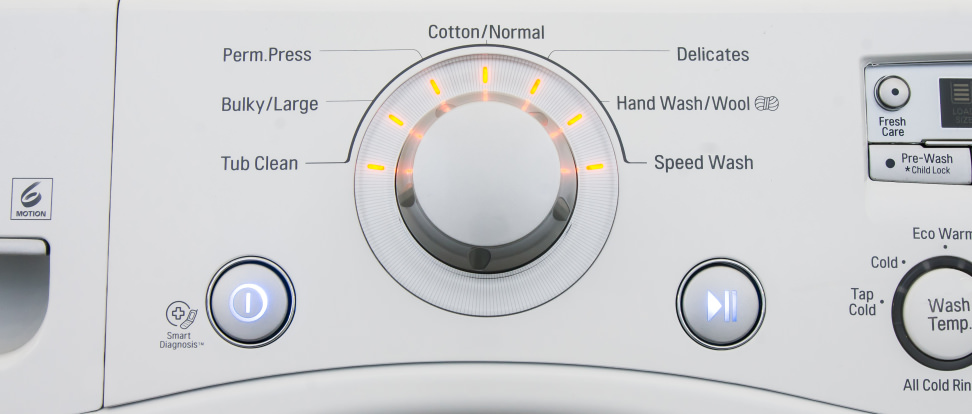 The LG WM3050CW (MSRP $799) is the successor to the LG WM2250CW, which won a 2013 Reviewed.com Best of Year Award. Like any good Hollywood sequel, the WM3050CW has all your favorite things from the original, only it's bigger.
This washer has the same above average cleaning ability and minimalist cycle selection. This time around, LG has increased the size of the drum from 3.6 to 4.0 cu. ft. But most importantly, the price hasn't increased. If you're looking for a front loader that cuts the fat, and has a good price-to-performance ratio, the LG WM3050CW is definitely worth checking out.
To read our full review of this washer's matching dryer, the LG DLE3050W, click here.
Design & Usability
For people who hate front loaders
Although front-loaders have many advantages over top-loaders, including decreased water and energy use and generally better stain removal, they've got their share of drawbacks. One of the most severe? The rubber gasket between the door and drum can get smelly if it's kept closed between washes. LG tries to remedy this with a magnetic stopper on the inside of the door. It keeps the door ajar, but out of the way.
Front-loaders also have a tendency to be more expensive. Usually that expense translates to an increased number of features, from stain guides to automated detergent ordering. The WM3050CW went for a barebones route instead, keeping only the most frequently used cycles and options.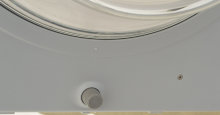 You may notice that the LG WM3050CW doesn't have a robust cycle selection. However, what cycles are included are all effective. Adjustments for wash temperature, spin speed, and soil level allow you to tweak cycles according to specific needs.
Because they don't have to "float" clothes in a pool of water to move them around, front loaders also use less water. That makes some consumers worry they aren't getting a thorough cleaning. That's why LG added a Water Plus option, which allows you to use nearly as much water as a top loader.
Performance & Features
A great value
On sale, you can snag the LG WM3050CW for around $720. At that price, the performance-to-cost ratio is excellent. We were glad to see that wash performance is nearly identical to the WM2250CW, meaning it's solid all around. Although pricier machines have scored better, the WM3050CW held its own across all cycles.
It won't cost you that much to run, either. Based on national averages for water and electricity, we estimate that the LG WM3050CW will cost around $38 a year in water and energy costs—around 50 percent less than the average top loader.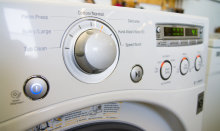 While Water Plus will wipe out some of those savings—and any extra detergent you added—LG also has you covered after the wash. Fresh Care keeps clean laundry tumbling for up to eight hours, keeping them from getting musty.
For in-depth performance information, please visit the Science Page.
Comparable Products
Before you buy the LG WM3050CW, take a look at these other washing machines.
Entry Level Excellence
Give this front loader a try
America is the land of the top-loading washing machine. It's been about 10 years since front loaders came back to the states, but some initial teething issues made buyers wary.
We think the accessible LG WM3050CW might be just the thing to convince apprehensive consumers. It cleans well, is fairly efficient, and has the features to help with everyday cleaning, like Water Plus. If you feel like fancy washing machines flush money down the drain along with sudsy waters, this may be the front loader for you.
Our editors review and recommend products to help you buy the stuff you need. If you make a purchase by clicking one of our links, we may earn a small share of the revenue. Our picks and opinions are independent from any business incentives.