laundry
LG WT5680HVA Washing Machine Review
If big is good, then bigger should be better. That's where this LG excels.
$1,199.99 MSRP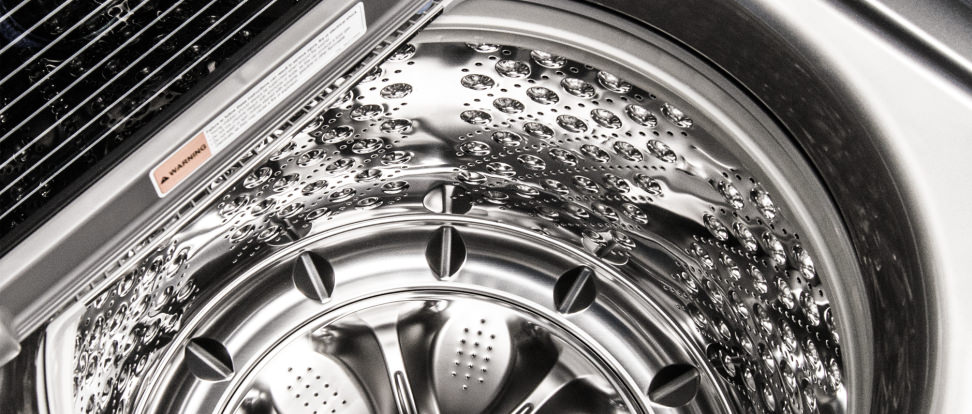 The LG WT5680HVA (MSRP $1,199.99 in granite or $1,099.99 in white) is, for lack of a better adjective, big. At 5.2 cu. ft., it's the biggest top-loader on the market.
In addition to size, the WT5680HVA has a dizzying array of specialty cycles like Wool and Sportswear. It also has TurboWash, which allows this washer to finish medium-sized loads in under 40 minutes. However, the Jack-of-all-trades lags behind in pure stain removal performance.
Still, if you're looking for a washer that's easy to load and shortens laundry day, this machine is for you. In fact, it's one of the best top-loading washers we've ever tested.
To read our full review of this washer's matching dryer, the LG DLEX5680V, click here.
Design & Usability
Like a Las Vegas Buffet
The LG WT5680HVA has a little of everything, and so does its control panel. Luckily, everything lights up so you can tell what's going on.
However, you'll probably want to read the manual for some of the less straightforward functions. For example, what's the difference between Extra Rinse and Water Plus? If you read the manual, you'll learn that Water Plus adds water during the cycle while Extra Rinse comes at the end of the cycle.
All those extra features are great, but this LG also boasts an impressive cycle selection list that ranges from Sportswear to Towels. There's even a steam cycle to deal with allergens. That's exceptionally useful for families where someone has a skin allergy.
This LG shouldn't be difficult to use if you just a select a cycle and press start, but keep the owner's manual handy if you're delving into the options and specialty cycles. With that said, sometimes it's better to have something and not need it than the other way around.
Performance & Features
A series of tradeoffs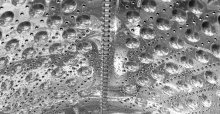 LG markets the WT5680HVA as large and fast. With a few caveats, it delivers on both. With a 5.2 cu. ft. drum, this washer is able to easily handle two baskets of laundry, so it's at least got "large" down pat. For speed, a typical Cotton/Normal cycle will last 38 minutes. The caveat is that "typical" is defined as an eight pound load, so you might come out ahead with one large load compared to lots of smaller ones.
Not every cycle finishes quickly: Cycles like Bright Whites and Heavy Duty both took over an hour to finish. The Allergeine cycle took almost two and a half hours to complete.
It also takes a fair amount of water to fill up that massive drum. We estimate that total yearly operating costs are around $55, based on national energy and water cost averages.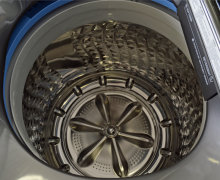 But what about performance? To put it in perspective let's compare this the WT5680HVA to another large capacity washer: the LG WT1701CV and the Samsung WA50F9A8DSP. The WT5680HVA came in last in this list. Although $100 cheaper, the WT1701CV outclassed the WT5680HVA, slightly. The Samsung is the same price, and has a moderate cleaning performance advantage.
What this LG has over those other washing machines is its size. As of right now, they don't get any bigger—although Samsung is coming out with a 5.6 cu. ft. washer.
For in-depth performance information, please visit the Science Page.
Comparable Products
Before you buy the LG WT5680HVA, take a look at these other washing machines.
Conclusion
For large families
The LG WT5680HVA is a good solution for families with a laundry bottleneck problem. If you find yourself spending a lot of time doing laundry because you have so many loads, this washer could be exactly what you're looking for.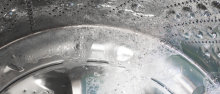 This LG would be great for a family that does moderate amounts of laundry multiple times a week. For example, after soccer practice, throw in a few uniforms and a couple towels. After forty minutes, they'll be done. Same goes for when your kid comes home from college for the weekend with a giant bag of laundry.
Overall, the LG WT5680HVA has solutions for multiple problems. It can take on massive loads, or it can wash smaller loads quickly. It's not a stain-fighting powerhouse, but it will definitely get clothes clean and make your life easier.
Our editors review and recommend products to help you buy the stuff you need. If you make a purchase by clicking one of our links, we may earn a small share of the revenue. Our picks and opinions are independent from any business incentives.