laundry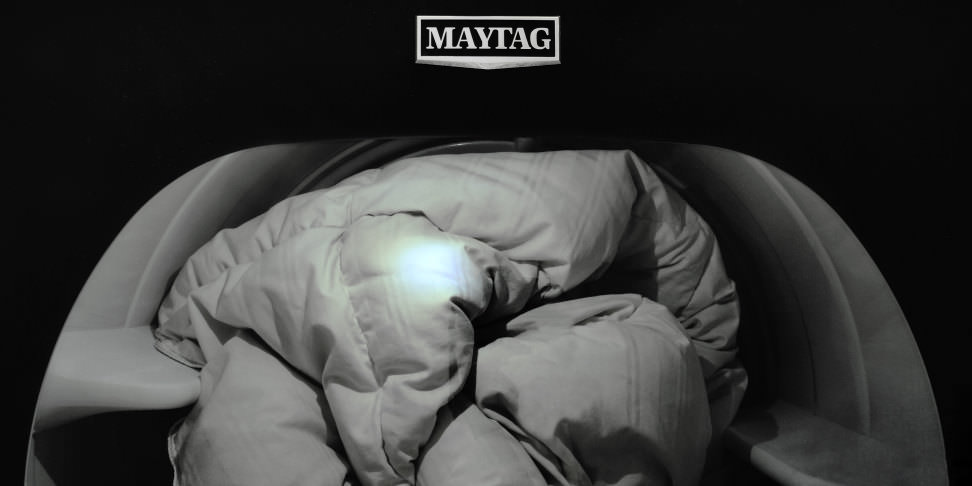 Credit: Reviewed.com / Matthew Zahnzinger
With excellent drying performance and an MSRP of just $999, the Maytag Bravos MEDB835DW is easy for us to recommend. Much like the slightly fancier MEDB855DW, the 835 serves up style, a massive drum, cycle variety, and plenty of features that make it an attractive buy.
Unlike its more expensive counterpart, however, the 835 lacks a water hookup for steam-based cycles and features. If you can live without steam, the tradeoff is appealing: The 835 retails for about $200 less—around $809 on sale—which means this 8.8-cu.-ft. dryer is a strong performer that's also affordable.
If you do want steam and don't mind a slightly smaller drum, check out the Whirlpool Cabrio WED7300DW. It has a 7.0 cu. ft. drum, but adds steam and only costs around $719.
Design & Usability
Just a touch of silver
The MEDB835DW is built on the same platform as the more expensive 855DW, so they're virtually identical. To keep them from looking like plain white boxes, they're highlighted by brushed silver control panels and translucent black doors.
Visually, the only real difference comes down to door trim: The 855 has reflective silver edging around the entire door, while the 835 only gets it along the top edge. Hardly a make-or-break design element.
Both models also feature an 8.8-cu.-ft. white interior with LED lighting and flip-open lint trap. Keep in mind that the more affordable 835 model doesn't come with a removable drying rack.
The control panel was easy to use except when pausing and restarting a cycle. It was impossible to tell whether a touch of the flat "Start" button registered, so we often found ourselves holding our finger on it with no results, waiting for a cycle to begin again.
Performance & Features
As good as it gets–unless you want steam
Again, the MEDB835DW is right on par with the 855—and that's some high praise. Each one of our standard 8-lb. loads came out 100% dry. The temperatures we measured were nice and low, and drying times were roughly as long as we'd expect. That means less wear and tear on your clothes than dryers that get too hot or take too long.
Even our large comforter came out almost perfectly dry, a rare feat for any dryer regardless of price or size. We suspect that's because the giant drum gave the comforter plenty of room to tumble.
Our one recommendation, though, is to match your loads with cycles suggested by the manual. For our Quick Dry test, we used the Maytag's 15-minute Rapid Dry, but our 4-lb. half load was too much for the cycle to handle. It's designed to tackle two or three damp garments at a time, in which case it should do just fine.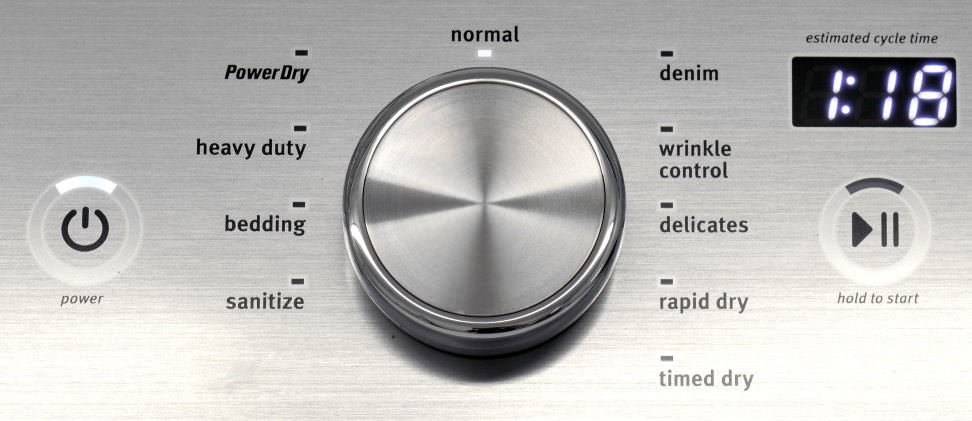 Like the 855, the cycle list is appropriately varied. In fact, both machines had an identical selection—minus Steam Refresh on the 835, of course. Sanitize, Denim, and even Maytag's Power Dry for heavy cotton items are all here to back up the everyday cycles.
In terms of features, this Maytag keeps it pretty basic. Wrinkle Control shows up as a designated cycle, with Wrinkle Shield serving as the extra option at the end of other cycles. Energy Saver mode and a Damp Dry Signal are all the other extra features you get. Five different temperature settings and dryness levels are available if you need to get specific.
For in-depth performance information, please visit the Science Page.

Comparable Products
Before you buy the Maytag Bravos XL MEDB835DW, take a look at these other dryers.
Warranty

Maytag's one-year parts and labor coverage is standard throughout the industry. If anything breaks through no fault of the user, then repairs or replacements are covered. However, Maytag adds to that with a 10-year parts warranty (labor isn't included) on the dryer drum and drive motor.
An Easy Winner
Few dryers can compete
Features, design, performance, price—the Maytag Bravos MEDB835DW has it all. It looks good, fits tons of laundry, and costs just over $800 in stores. How can you beat that?
Well, you could step up to the otherwise-identical MEDB855DW which features steam and is available for about $200 more. Or you could pick the Whirlpool Cabrio WED7300DW, which adds steam and costs about $100 less—though it has a smaller drum.
But if you don't care about steam cycles and need the capacity, the MED835DW is a great choice. Not only does it have a broad selection of useful cycles, features, and customization options, but its Normal cycle is good enough that you can trust the dryer to manage the job for you.
Our editors review and recommend products to help you buy the stuff you need. If you make a purchase by clicking one of our links, we may earn a small share of the revenue. Our picks and opinions are independent from any business incentives.