laundry
Maytag Bravos XL MVWB725BW Washing Machine Review
This Bravos XL is a less expensive alternative to pricier top-loaders.
$799.00 MSRP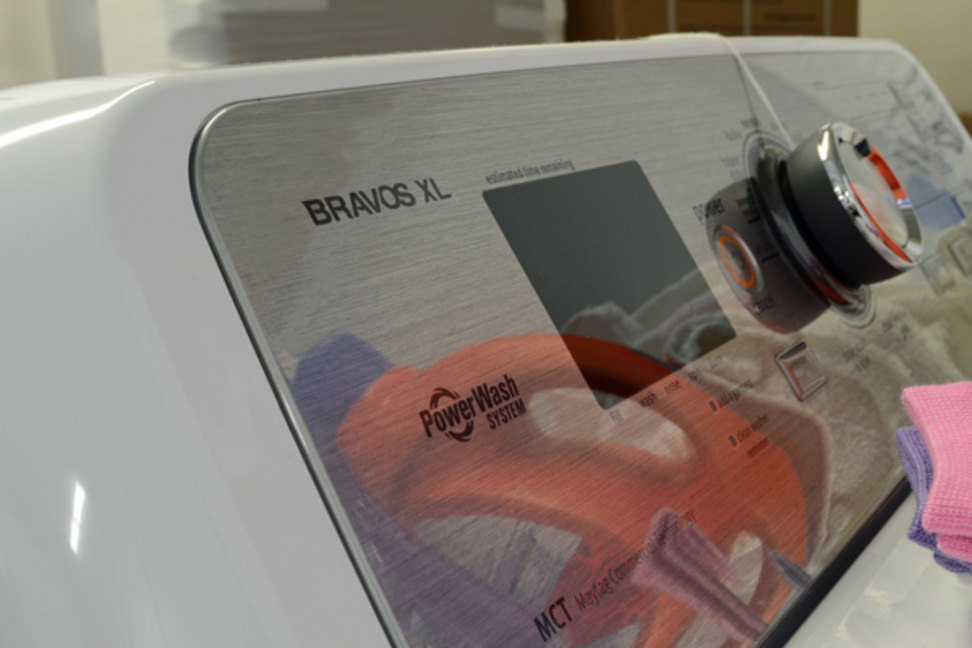 Introduction
Do you want to hear something crazy? When it comes to appliances, price doesn't always equal performance. The Maytag Bravos XL MVWB725BW (MSRP $899) is proof of that claim. Even though top loaders can lag behind front-loading siblings when it comes to how well they clean clothes, this relatively inexpensive Maytag not only out-washed many other top loaders, but it matched competing front loaders. In fact, the MVWB725BW's only drawback is relative inefficiency. We calculated its running costs are about $125 more over five years compared to the most efficient machines on the market, and that could eat up some of your savings.
Design & Usability
All plastic on top, all good
Though painted to look like steel, there isn't a lick of metal on the control pannel. That's not really a bad thing, since the polished plastic is more resistant to fingerprints and scratching. The simplicity of the MVWB725BW's design plays to its favor. Usability-wise, you won't find anything amiss. The no-slam lid insures that you won't have to watch your head when you put in laundry. Everything is clearly labeled, and you shouldn't have any problems operating this machine.

You shouldn't have any problems operating this machine.
In fact, the whole budget for this machine seems to have been devoted to the innards. The machine we tested appeared a little rough around the edges, with exposed metal corners and some visible screws. But it's still sleeker than any traditional top-loader.
Performance & Features
Cleaning performance? Yay! Efficiency? Eh.
A washing machine should wash your clothes, and the Maytag Bravos XL MVWB725BW has no trouble getting that job done. The Heavy Duty Powerwash cycle took only an hour and 17 minutes, and blasted through every stain we could throw at it. And every other core cycle proved to be on par with higher-priced competition. With a fifty-four minute Normal cycle and a 4.5 cubic foot capacity, you'll be master of the laundry in no time.
The Powerwash cycle took only an hour and 17 minutes, and blasted through every stain we could throw at it.
Well, at least until you get your water bill. I don't care how much of an outlaw you want to be, but there are a set of rules you just can't break: the laws of physics. This new Bravos has an innovative way of agitating a wash load, and it'll certainly be more efficient than a ten year old machine, but it can't be helped that a top loader requires more water than a front-loading machine. While a top loader has to splash water all over a load of laundry, a front loader can just tumble it through a small puddle until it's soaked through.
The MVWB725BW demonstrates this through its estimated combined annual water and energy cost of $53. The most efficient front loaders cost under $30 a year. Over five years, that's $125 in savings, depending on how much water costs where you live.
Comparable Products
Before you buy the Maytag Bravos XL MVWB725BW, take a look at these other washing machines.
Conclusion
Front-loading machines are sometimes touted as the be-all, end-all of washing machines. But not everyone wants a front loader. If you're one of those folks, check out the Maytag Bravos XL MVWB725BW. It's got the cleaning power to get in the ring with front-loaders and certainly any other top-loader. The Powerwash cycle is one of the best we've seen on a top-loader. Yes, efficiency is an issue, but that's an inherent tradeoff with this style of machine. If you're looking for a top-loading washing machine and not looking to break the bank, check out the MVWB725BW.
Our editors review and recommend products to help you buy the stuff you need. If you make a purchase by clicking one of our links, we may earn a small share of the revenue. Our picks and opinions are independent from any business incentives.