laundry
Maytag Bravos XL MVWB725BW Washing Machine Review
This Bravos XL is a less expensive alternative to pricier top-loaders.
$799.00 MSRP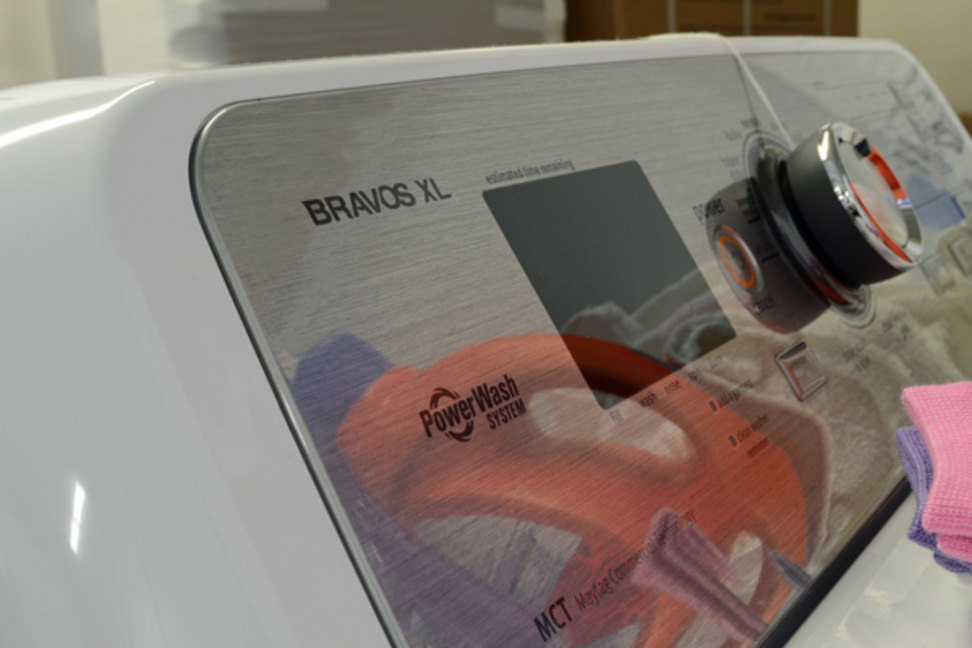 Science Introduction
While our labs may be built on a foundation of concrete and stone, Reviewed.com is built on a foundation of science. Objective testing is bedrock upon which trust is built. For washing machines, our tests offer unimpeachable evidence of cleaning performance and efficiency. So let's get started, shall we?
Cleaning Performance
We gauge cleaning performance by analyzing stain strips. When we get them from the lab where they're manufactured, the strips are covered in standardized stains of common household substances like red wine and carbon. We tuck them away in an eight pound load of laundry and wash them. After the core washing cycles end, we take the strips and place them under a photospectrometer to determine how much color has been removed.
When all was said and done, the Maytag Bravos XL MVWB725BW proved to be a competent washing machine. The Powerwash cycle was by and far the best. It powered through every stain with about equal zest. However, with all other cycles sweat and cocoa turned out to be the most vanquished. That's a pretty good sign, since both of these substances are on the the opposite sides of the pH scale. Overall, you can feel comfortable that your clothes are clean if you wash them in the MVWB725BW.
Efficiency
For our purposes, efficiency is about two things: what goes in and what comes out. What goes in is water and electricity. What comes out is wet clothes, and the wetter they are the more work your dryer has to do.
On both counts, many top loaders fall flat on their faces. This Maytag does require a lot of water and power. We estimate that the yearly running cost to be close to be $53. To put that in perspective, most front-loaders run about $30-40 a year. What came out was okay. On average, the MVWB725BW managed to spin out 63 percent of our test loads' weight in water, which is very good. Your dryer will thank you.
Comparable Products
Before you buy the Maytag Bravos XL MVWB725BW, take a look at these other washing machines.
Our editors review and recommend products to help you buy the stuff you need. If you make a purchase by clicking one of our links, we may earn a small share of the revenue. Our picks and opinions are independent from any business incentives.