laundry
Maytag Maxima XL MED6000AG Dryer Review
The Maytag MED6000AG is a dryer with which you should not trust what you see, but what you feel.
$1,299.00 MSRP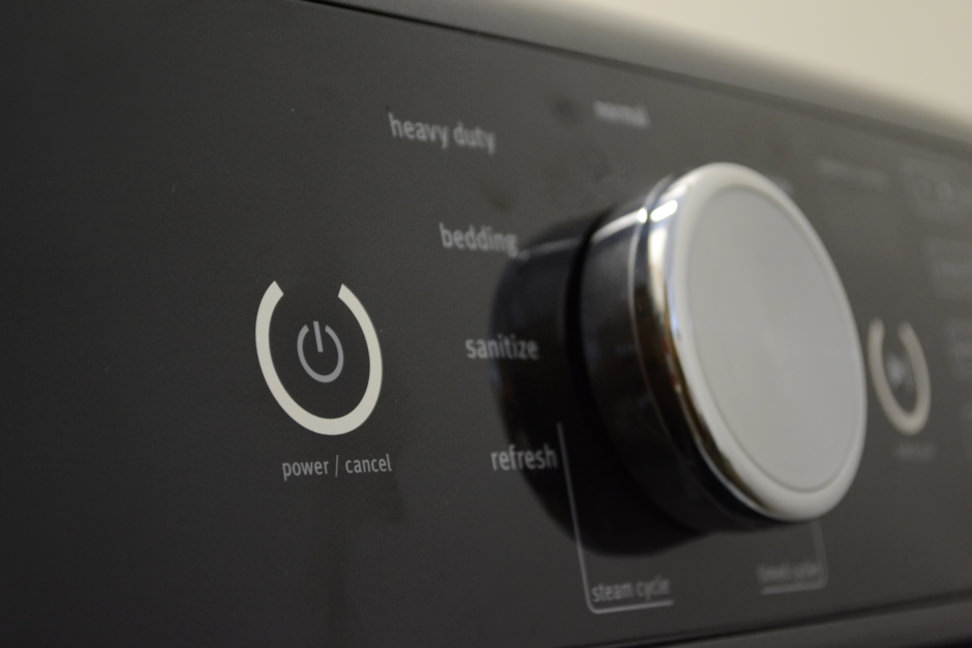 Introduction
There's a knock at the door. Who is that shadowy, square figure? It's the MED6000AG (MSRP $1,299), the midrange choice in Maytag's upscale Maxima line. How fortuitous! You were just thinking about drying some laundry. Is this Maytag up to the task? Sure, but it will complete its task in mysterious ways. For example, the display claimed the Normal cycle would last 38 minutes, but the chimes wouldn't sound for almost another hour beyond that. That's longer than the average dryer. Is there a time dilation effect inside that stainless drum? I don't know — I don't have all the answers. However, I do know that our test loads came out almost completely dry on the Normal cycle.
Design & Usability
Gray exterior, bright digital controls — is it a DeLorean?
Every time I opened the door to this Maytag, I expected Christopher Lloyd to pop out and yell something about my kids. It's all because of the design: The digital timer on the control panel, the bubbled front, and the overall shape remind me of some futuristic device from a Reagan-era sci-fi movie.
Like the upscale machines from corporate cousin Whirlpool, this Maytag's jet black and silver controls eschew physical buttons for capacitive touch controls. While they sure are sleek, they require a lot of tapping. In the short time that the MED6000AG spent in our labs, the black background picked up a lot of fingerprints. Besides the buttons, everything else was responsive and intuitive. The door and lint trap opened without a fuss. One thing of note is that the MED6000AG is designed to help keep your laundry fresh. After a cycle has concluded, the machine will give it a tumble every once in a while to help reduce wrinkles.
Performance & Features
Take your time, do it right
I remember it was pouring when I met the Maytag MED6000AG. I rolled up to the testing bay in my trusty office chair, raindrops tapping on the roof. The Maytag MED6000AG was just the ticket, the cure for a cloudy day. When our test laundry load was done, the sun was shining again. That's mostly because the Normal cycle took about an hour and fifteen minutes. That grossly overshot the LED screen's stated duration of 38 minutes, but it gave plenty of time for the weather to change. It also left our test loads 99 percent dry.
The Delicates cycle really impressed us. It also got our test loads 99 percent dry without reaching any dangerously hot temperatures, a Herculean task for many dryers. Unfortunately, it did have the same problem of taking much longer than stated: An hour and 45 minutes instead of 28 minutes.
The Bedding and Rapid Dry cycles just didn't get our test loads dry, which isn't a surprise. But it's how poorly the Bedding cycle did that upset us. It took about an hour and left our comforter only 68 percent dry. There was a signal for us to flip the comforter, but — because we're following protocol that's based on how consumers use their machines — we ignored it. Don't look at us like that — our research shows that you likely would too.
The Rapid Dry cycle was the only cycle on the MED6000AG that actually lasted the stated duration of 18 minutes. It managed to get our test load about 56% dry. That's not bad considering we gave it a standard four pound load of laundry, wet. It would probably do a great job with just a single shirt.
On the features front, the Maytag MED6000AG has nearly all of them. It's got everything from steam to wrinkle reduction.
Comparable Products
Before you buy the Maytag Maxima XL MED6000AG, take a look at these other dryers.
Conclusion
Maytag has stepped up their game with their latest in the Maxima series. The $1,299 MED6000AG model is designed to be the volume seller in the lineup, below the higher-end MED8000AG, but it still holds its own. With a Normal cycle that got our test loads nearly perfectly dry, our only major problem with this machine was how long it took. A load of laundry isn't a masterpiece, and we think it's appropriate to demand punctuality. Features like adding steam for wrinkle reduction, however, somewhat make up for this machine's languid laundering.
Our editors review and recommend products to help you buy the stuff you need. If you make a purchase by clicking one of our links, we may earn a small share of the revenue. Our picks and opinions are independent from any business incentives.