laundry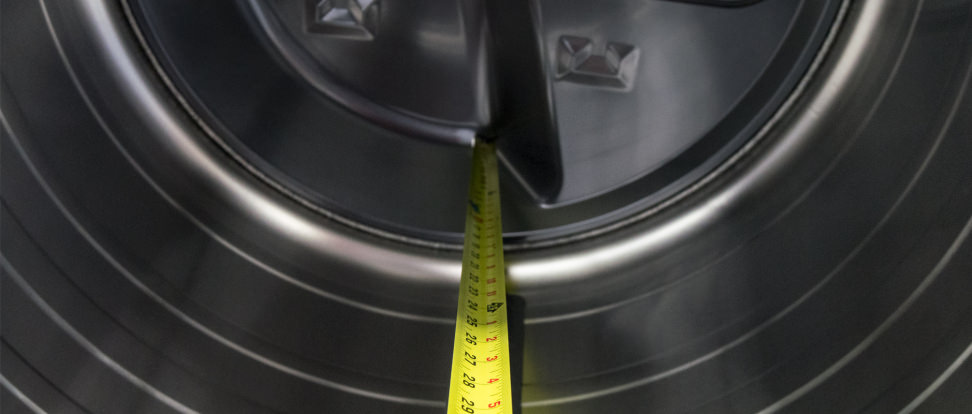 We first encountered the Samsung DV56H9100EG (MSRP $1,699 in onyx or $1,599 in white) at CES 2014. To date, it claims the top spot for largest dryer retail dryer on the market. This Samsung boasts a whopping 9.5 cu. ft. of interior space. That's big enough to fit 32 pounds of laundry. During our drying tests, this machine powered through a comforter while being gentle enough for delicate items.
However, being the biggest does have its draw backs. While still in the box, it's 31 and 7/8 inches wide which barely fits through a 32-inch. Be sure to measure the entire route from the door to laundry room, as this dryer might not fit around a weird corner or through a narrow door.
If you're looking for capacity over all else and you've got the space for it, this dryer is worth checking out.
Design & Usability
And in this corner, weighing in at 159 pounds...
Everything about the Samsung DV56H9100EG's design revolves around its size. The print is big, the buttons are big, and the drum is downright huge. That allows you to load up more laundry at a time—up to 32 pounds, according to Samsung. If you have a large family and find yourself doing multiple loads because you can't fit it all in at once, the DV56H9100EG is a big time saver.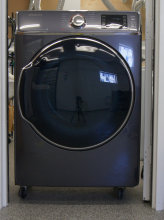 Although the size aids in increasing the efficiency of doing the laundry, it has some drawbacks. This Samsung requires more than 57 inches of clearance for the door to be open all the way. Standing side-by-side with the accompanying washer, the Samsung WF56H9100AG, the two appliances take up 60 inches of space. Measure carefully before purchasing because no ordinary laundry closet can contain these behemoths.
Size aside, the DV56H9100EG is pretty easy to use. It has a dizzying array of cycles, but they are evenly spaced out and light up when selected. The drum lights up too, so you won't have to fumble around for the light switch in a basement setting. Everything on this machine feels solid and well-built, which is expected for a machine at this price point.
Performance & Features
It's about how much laundry fits, not how fast it dries.
The performance of the DV56H9100 is excellent in specific ways. It bested a wet comforter, getting it 77 percent dry. That's impressive since it's considered common practice to flip a comforter and run the Bedding cycle again. This dryer also did extremely well on the Delicates cycle. It got fabrics dry without getting too hot, which can damage them.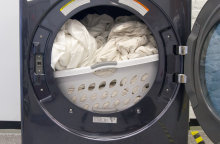 However, the DV56H9100EG's Normal cycle lagged behind other dryers when it came to drying a medium-sized load. The Normal cycle took, on average, an hour and twenty-three minutes to dry eight pounds of laundry. Although it did get laundry completely dry, that's a long time—especially considering that Samsung has advertised this machine as a time saver.
The claim of "Three times the laundry in one third the time" only holds up, as the small print says, if you are filling this dryer to capacity, as it's capable of washing three times as much laundry as other machines. Pound-for-pound, dryers like the Electrolux EIED50LIW are quicker. That's not to say that the Samsung DV56H9100EG is bad—in fact, it's a good dryer. However, you shouldn't expect it to blast through smaller loads in no time.
Features-wise, the DV56H9100EG has the standard higher-end Samsung fare. Beyond Wrinkle Prevent and the drum light, this dryer comes with a Rack Dry option to dry stuffed animals and shoes. Also, there's the ability to save customized cycles. Nothing new or exciting in this department.
For in-depth performance information, please visit the Science Page.
Comparable Products
Before you buy the Samsung DV56H9100EG, take a look at these other dryers.
Before You Buy
Mr. Big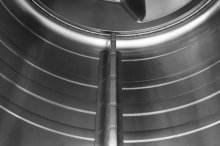 If you're doing more than three baskets of laundry a week, the Samsung DV56H9100EG will save you time. Its performance is adequate, and it will save you time as long as you fill it with laundry for every load. Otherwise, $1,600 is a lot of money to spend on a dryer.
Regardless of cost, this Samsung is a well-designed feat of laundry engineering. Its sheer scale is impressive, although that same scale may be an issue for consumers who can't fit it into their homes.
But if your philosophy is to go big, you can go no bigger than the Samsung DV56H9100EG.
Our editors review and recommend products to help you buy the stuff you need. If you make a purchase by clicking one of our links, we may earn a small share of the revenue. Our picks and opinions are independent from any business incentives.