laundry
Samsung WA52J8700AP Activewash Washing Machine Review
Samsung's Activewash is one of the best laundry innovations we've ever seen.
There is a variation of the Samsung WA52J8700AP called the Samsung WA52J8700AW. It is very similar to the Samsung WA52J8700AP in most respects.
Editor's Note: On November 4, 2016 Samsung announced a voluntary recall to address consumer complaints about washers experiencing catastrophic failure during spin cycles. You can learn more about that recall here.
Certain serial numbers of this model may be affected by this issue. As such, we have chosen to rescind our Editors' Choice award for this product until we have more information on Samsung's plans to remedy the situation.
Let's be clear about one thing: The Samsung WA52J8700AP (MSRP $1,199 in platinum or $1,099 in white) is the most innovative washer we've seen in years.
Its unique Activewash system puts a sink on top of the washing machine, complete with a faucet and ribbed basin for soaking or pretreating the stains that you or your kids left behind. When you're done hand washing, just open the lid and your laundry will fall into the drum. It's a remarkably simple solution for users who don't have a sink in the laundry room, and the white WA52J8700AW can be found online for just $849.
So why, then, doesn't it get a perfect 10 score? Well, a lot of the features that make the WA52J8700AP easier to use and popular with some consumers also have minor drawbacks. For instance, a top-loading washer will always struggle with stain removal and water efficiency compared to a front-loading counterpart. The Activewash basin can sometimes make it harder to load laundry. And while the SuperSpeed setting is truly superb—shaving ten minutes off a wash—it isn't part of the washer's default Normal cycle, which is what the vast majority of American users choose.
In general, the WA52J8700AP is an above-average performer, and one of the better top-load machines we've tested—but it is clearly designed for a specific consumer. If you prefer a hands-on approach to doing laundry, you'll love the Samsung Activewash. We certainly do. But if you're the sort who ignores care tags, doesn't sort laundry, and wants the washer to do all the work, look elsewhere.
Design & Usability
Yep, it has a sink on top
The most interesting part of the WA52J8700AP is its Activewash system (Samsung styles it "activewash"). It puts a 1-cu.-ft. sink underneath the washer's lid. Open it, and you'll find a plastic basin with a ribbed interior. These ribs act like the washboards of old—except, instead of going down to the river to get water, you can simply press a button at the front of the machine to activate a small spout.
Fill the basin to presoak your laundry, or wet it and scrub it against the side of the tub to remove fresh stains. When you're done, simply tilt the whole washbasin back and—thanks to a trick latch that connects the basin and lid—all the pretreated laundry and dirty water fall into the washing machine drum, ready for a cycle. Pretreating your laundry is almost always the way to go when it comes to tough stains, and Activewash makes it easier than any washing machine ever has.
We loved the idea of Activewash when we first tried it out at CES, but didn't know how actual users would react. So we brought in our editor's mother—a lifelong laundry pretreater—to try it out. (Apparently, interest in appliances is a hereditary trait.) She loved it, too—noting that she wouldn't have to go upstairs to soak clothes in the kitchen sink, and that the spout could also be used to fill a spray bottle for ironing.
But if you aren't a power washing machine user, or if you already have a utility sink and counter in your laundry room, the Activewash basin could get in the way. We found that the added weight of the basin was enough to make the lid slam shut, for instance. After just a week's worth of use, the lettering on the detergent drawer started to peel off. Sometimes the water jet would splash outside the basin, and the basin occasionally wouldn't latch tightly to the lid—making it more difficult to tilt dirty laundry into the machine.
Other than Activewash, the WA52J8700AP's design language is familiar. Awhile back, Samsung decided on a standard aesthetic for its top loaders, which is why the WA56DRHSDU, the WA56H9000AP, and the WA50F9A8DSP all share the same general look. We think that's a good thing: The dial is simple and easy to read, and all the feature buttons are large to avoid confusion.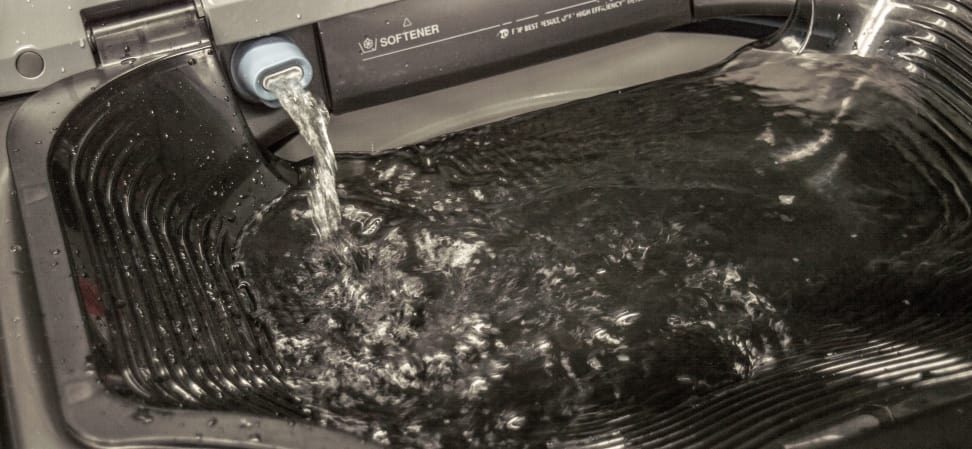 Advertisement - Continue Reading Below
Performance & Features
Meanwhile, down in the drum...
Cool features don't give the WA52J8700AP a pass in our tests, in which we determine how good it is at removing stains, spinning out excess water, and not destroying clothing in the process.
For our stain removal test, we washed away everything from cocoa to red wine. The Heavy Duty cycle aced all of our stain tests, and did particularly well against cocoa and dirt stains. But our water meters told us why Heavy Duty was so effective: it used 34 gallons of water, 16 gallons of which were hot. Such water usage makes the Heavy Duty cycle the most expensive to run.
The Normal cycle used half as much water, and was only 8% less effective than Heavy Duty. We'd recommend it for most cycles. SuperSpeed is designed to take only 36 minutes, but—unlike LG's similar TurboWash—the faster wash cycle isn't a default setting. We'd still select it to get clothes done in a hurry.

On other metrics, the WA52J8700AP was at or below average: It wasn't particularly gentle on clothes, and it didn't excel at spinning out excess water. That means extra costs down the line—whether it's buying new clothes or running your dryer for longer.
We use average national costs and typical user behavior to determine how much a washing machine will cost to operate in total. In the case of the WA52J8700AP, water and energy should run $66 a year. Even for thirsty top loaders, that's a few dollars more than average—mostly due to thirsty optional cycles. It's also about double what an efficient front loader would use. Over the washer's lifespan, that's about $660, plus detergent and any out-of-warranty repairs. These numbers don't make or break this Samsung, but it's something to consider if you're investing for the long haul.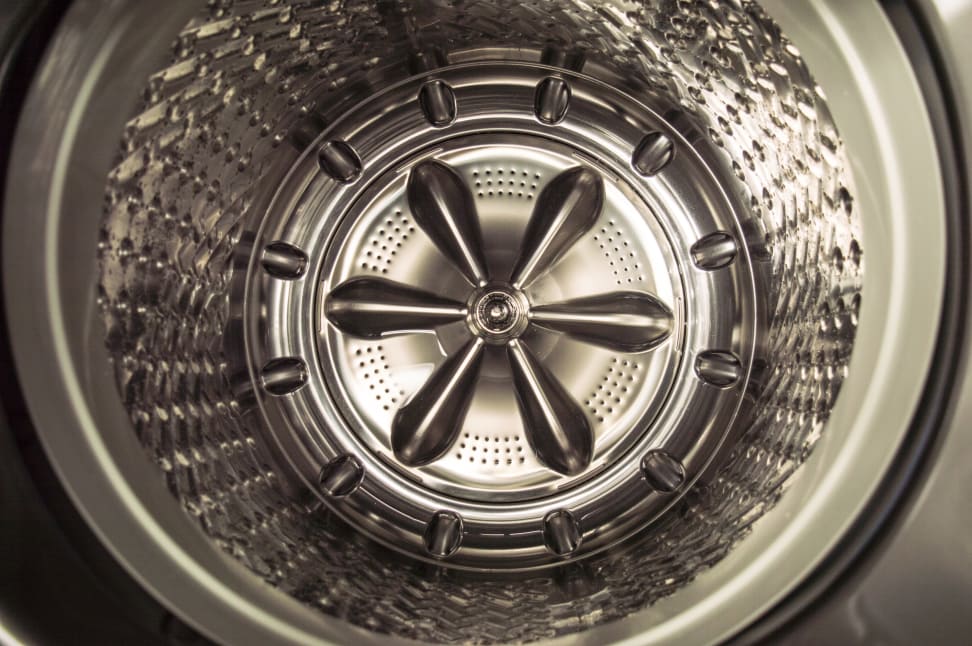 For in-depth performance information, please visit the Science Page.
Warranty
Like many appliance manufacturers, Samsung offers different warranty coverage depending on what goes wrong with a washer. The WA52J8700AP has a one-year parts and labor warranty, plus a two-year warranty on its control board, a three-year warranty for its stainless drum, and a ten-year warranty on its washing motor.
Conclusion
For the right buyer, it's the perfect washing machine
For many, doing laundry is a lot more involved than just throwing it in the washer. Those folks might have kids or pets, or they might just love fashion. They want the cleanest clothes possible, and they know they need to pretreat. With Activewash, the Samsung WA52J8700AP lets you take care of your clothes more conveniently.
Is the Activewash feature worth it? If you find yourself running between the kitchen sink and the laundry room when you need to pretreat, it definitely is. This 1-cu.-ft. basin effectively puts a utility sink on top of your washer, saving time and hassle, and closing the gap between hand washing and machine washing. In a Platinum finish, the WA52J8700AP usually sells for around $1,000—but the white Samsung WA52J8700AW can be found for as low as $849—a great deal.
If you prefer a hands-off approach—or if you already have a sink—other washers are more efficient and do a better job removing stains. We love the Activewash, but it's up to you whether it fits in your laundry day routine.
Our editors review and recommend products to help you buy the stuff you need. If you make a purchase by clicking one of our links, we may earn a small share of the revenue. Our picks and opinions are independent from any business incentives.
Our editors review and recommend products to help you buy the stuff you need. If you make a purchase by clicking one of our links, we may earn a small share of the revenue. Our picks and opinions are independent from any business incentives.
Advertisement - Continue Reading Below
Our editors review and recommend products to help you buy the stuff you need. If you make a purchase by clicking one of our links, we may earn a small share of the revenue. Our picks and opinions are independent from any business incentives.
Get Our Newsletter
Real advice from real experts. Sign up for our newsletter
Thanks for signing up!