laundry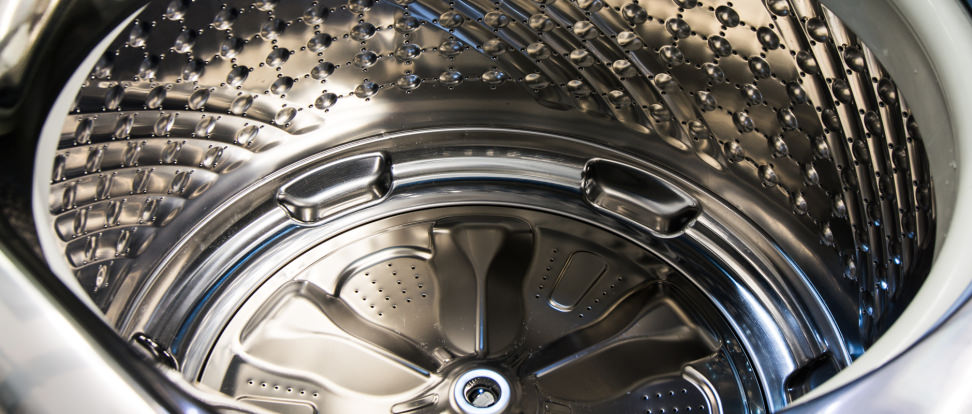 Editor's Note: On November 4, 2016 Samsung announced a voluntary recall to address consumer complaints about washers experiencing catastrophic failure during spin cycles. You can learn more about that recall here.
Certain serial numbers of this model may be affected by this issue. As such, we have chosen to rescind our Editors' Choice award for this product until we have more information on Samsung's plans to remedy the situation.
Want a giant washing machine that isn't a front loader? Well, the Samsung WA56H9000AP (MSRP $1,499) is the top-loading cousin to the WF56H9100AG.
Gigantism seems to run in the family. With a 5.6 cubic foot drum and a 30-inch width, the 9000 is the biggest top-loading washer you can find outside of a laundromat.
Of course, this washer is just as slow as its front-loading counterpart. Sure, Samsung advertises that this machine can wash three times the laundry in one-third the time. But that only holds true if you're stuffing this machine to the brim with laundry. It will still take an hour and a half to finish a Normal load, but that Normal load can be as large as four baskets of laundry.
This washer is designed specifically for people who wash a lot of clothes at one time, and who prefer to wash them in a top-load machine. It's easy to load and unload and has a familiar feel. However, its cleaning performance is bested by its competitors, and your water bill could be as high as $100 a month if you take advantage of all its cycles.
Design & Usability
As American as a pickup truck.
The shape of this washer reminds us of those Chevy pickups from the 50's, with chrome trim and rounded edges. It's an appropriate homage, since the WA56H9000AP is all about loading and unloading large amounts of laundry.
Although the drum is able to fit 5.6 cu. ft. of laundry in, it only measures around two feet deep. Samsung calls it an EZ Reach design, and says you won't have to climb a ladder, throw on a headlamp, and go spelunking to find that errant sock. However, the drum is still very wide. Since laundry tends to stick the edges of a washer's drum, it may still take some effort to unload.
Other than that issue, the WA56H9000AP is just a standard top-loader.
...one weird corner may prevent you from moving this appliance into your house
Note however, that this machine is 30 inches wide. Modern doors are 32 inches wide, and old homes may have even smaller portals. Pair this washer with its matching dryer and you'll need at least five feet of space. Be sure to measure carefully, as one weird corner may prevent you from moving this appliance into your house.
Performance & Features
Water, water, everywhere.
Some people think that more water makes for a better wash. Generally speaking, that isn't true, but manufacturers still cater to the wetter-is-better crowd with specialty cycles.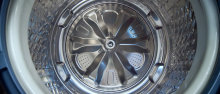 Samsung's Niagara Wash is one of the least water-efficient cycles we've ever tested. If it cleaned extremely well, we could make a case for it. But despite the whopping 60 gallons it used in our tests, it provided no better cleaning performance than the Normal cycle. If you use this cycle once a week, you'd be pulling 3,120 gallons of water a year. That's enough to fill a pool.
Across the board, this Samsung left us unimpressed with its cleaning performance. It had trouble with sweat and dirt stains on all cycles, and the Normal cycle took an hour and fifteen minutes—twice as long as some of the best machines we've tested. Even the Quick Wash cycle took 45 minutes.
For in-depth performance information, please visit the Science Page.
Comparable Products
Before you buy the Samsung WA56H9000AP, take a look at these other washing machines.
Conclusion
Niagara Wash falls short.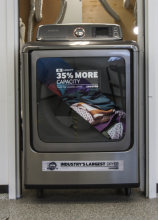 Some people really need a giant washing machine. Many of those people prefer top-loading washers. Those people will be attracted to the Samsung WA56H9000AP, and won't mind paying $1,099 on sale for it.
Others should be cautious. In our tests, we found the WA56H9000AP's cleaning performance to lag behind the best machines we've evaluated. That's true even when we engaged the water-intensive Niagara Wash, which used more water than nearly any other cycle we've tested.
If those performance results make you wary, there are plenty of other machines on the market that can get the job done. For instance, Samsung's own WA50F9A8DSP is one of the best top-loading washers we've tested. It fits slightly less than the 9000 series, but we think it's a better washer overall.
Our editors review and recommend products to help you buy the stuff you need. If you make a purchase by clicking one of our links, we may earn a small share of the revenue. Our picks and opinions are independent from any business incentives.