laundry
Samsung WF56H9100AG Washing Machine Review
So much laundry, so little time
$1,198.80 at Home Depot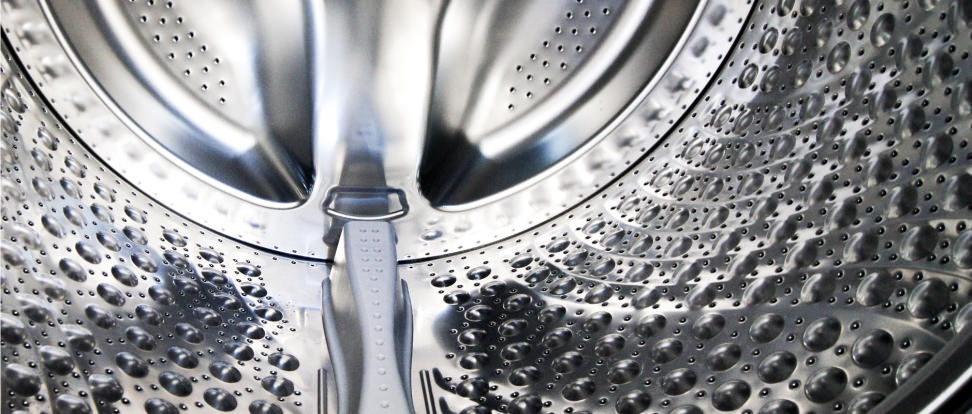 The Samsung WF56H9100AG ($1,699 in onyx or $1,599 in white) is the world's largest residential washing machine. It can hold a whopping 5.6 cubic feet of laundry, and tips the scales at 267 pounds. It measures 30 inches across, 42 inches tall, and 33 inches deep.
The onyx version looks fantastic with its chrome accents and curved lines. But even if it fits your decor, it might not fit in your house. Paired with its matching dryer, the DV56H9100EG, you'll need a room that's at least five by five feet, and that's bigger than many laundry closets.
The WF56H9100AG surprised us with its outstanding efficiency, using only 13 gallons of water for the Normal cycle. That impressed us, considering this Samsung can fit almost twice as much laundry as some other front-loaders. However, cleaning performance lagged behind washers that cost hundreds less.
Families who do more than three basket-loads of laundry at a time and have a home large enough to contain it would have use for a behemoth like the WF56H9100AG. Otherwise, this Samsung may not be a great fit—in more ways than one.
To read our full review of this washer's matching dryer, the Samsung DV56H9100EG, click here.
Design & Usability
The elephant in the corner of the laundry room
The WF56H9100AG's size proves to be the greatest advantage and greatest drawback of its design. Big families with lots of laundry will appreciate that it can fit around four basket-loads of laundry. That's two comforters with room to spare.
However, it might not fit in your house. At 30 inches, the Samsung's width is the shortest dimension on the WF56H9100AG. Doors in modern homes usually measure between 32 to 36 inches wide. That's not a whole lot of clearance, and one oddly-shaped corner or tiny door may do you in. Be sure to measure before you buy, and get help installing it—it's heavy.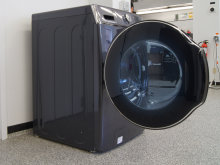 Once you make sure the WF56H9100AG can get through the door, you should measure your laundry room. With its matching dryer, the pair will take up five feet across, and the top of the dryer would be seven feet off the floor if the pair were stacked. You also need at least 57 inches of clearance to open the door all the way.
In terms of actually using the WF56H9100AG, everything is as it should be. Even with 14 cycles on offer, it's easy to find the right one since they're all named descriptively and laid out logically. All the print is easy to read and all the buttons are large. There's even a drum light for illuminating dark basements.
Performance & Features
Size exceeds cleaning performance
The Samsung WF56H9100AG has a large drum and an equally large price. But our tests showed its cleaning performance lags behind other washers that cost less, like the Kenmore Elite 47102. No cycle displayed above average cleaning, and they all had trouble removing tough sweat stains. We expected more from a washer that costs twice as much as some other front loaders.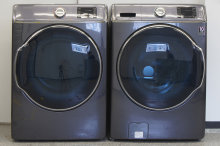 On the features front, the WF56H9100AG skipped no bases. It has steam to smooth out wrinkles, plus the option to add an extra rinse and/or extra spin. The most useful feature is Super Speed. It uses a unique spray pattern to make cycles faster, and knocked off about 15 minutes from the already-brief 46-minute Normal cycle. That means you can get an 8 lb. load of laundry washed in just a half hour. Both cycles are faster than the 48-minute Normal cycle on the TurboWash-equipped, 5.1 cubic foot LG WM8000HVA.
We were also impressed that such a large washer used so little water. Based on average costs and use patterns, we calculate that the average American will spend just $28 a year in water and energy costs to run this Samsung. That's half of what many top-loaders use. This washer also did a really good job of spinning excess water out of laundry at the end of a cycle. The less water a load of laundry retains, the less work the dryer has to do.
For in-depth performance information, please visit the Science Page.
Comparable Products
Before you buy the Samsung WF56H9100AG, take a look at these other washing machines.
If The Washer Fits, Buy It
Washes lots of clothes in very little time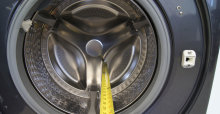 If you want to wash as many clothes as possible as quickly as possible, the Samsung WF56H9100AG is for you. It's not only the largest washer on the market, but also one of the fastest.
This washer won't fit a small home or a small budget. At 30 inches wide with an MSRP over $1,600, it might be too big for your laundry room, and our tests showed that its cleaning performance lagged behind other washers in its price range.
However, if your philosophy is to go big, then you can go no bigger than the Samsung WF56H9100AG washing machine.
Our editors review and recommend products to help you buy the stuff you need. If you make a purchase by clicking one of our links, we may earn a small share of the revenue. Our picks and opinions are independent from any business incentives.