laundry
Whirlpool Cabrio Platinum WTW8000BW Washing Machine Review
You'll strike silver with this Cabrio Platinum
$749.99 MSRP

Like Hollywood blockbusters, today's washing machines may seem a bit over the top. They're basically like the outlandish robots in Iron Man 3, but with steam cycles and smart home connectivity. That's why it's so refreshing to come across a washer that gets back to the basics. The Whirlpool Cabrio Platinum WTW8000BW (MSRP $749.99) leaves the fancy doodads to the higher end models. Though it has high water usage, this Whirlpool has average cleaning performance and a streamlined user interface. What more could you ask for?
Design & Usability
Hard top and smooth sailing
In the automotive world, "cabrio" means convertible. Yet the Whirlpool Cabrio has a hard opaque top. I actually like it more than the glass top found on higher end machines because it's a clean workspace that can't get smudged by finger prints. Plus, it has no-slam hinges. That means the door will stay open at nearly any angle.
Other than that, there isn't much to say about usability, and that's a good thing. You open the top up and put in your laundry. All the cycles on this machine are self-explanatory.
Performance & Features
Comparing price to performance, the Cabrio comes out ahead
It's easy to rate everything in absolutes. Compared to most $1,500 machines, the Whirlpool Cabrio WTW8000BW is no match. However, when you start to break it down into how much you pay versus what you get, the Cabrio makes up a lot of ground. The Whites cycle performed the best, typical of other washers in this price range. It lasted an hour and ten minutes, blasting through tough stains like blood and wine. The 34-minute Quick Wash cycle fared the worst and struggled in dealing with sweat stains, so best to use it on lightly soiled clothes.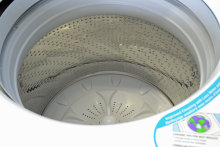 The WTW8000BW's wash efficiency was a trouble spot. We estimated that the yearly running cost for this washer would be around $60 a year. To put that in perspective, this Frigidaire Affinity has the same MSRP, but it only costs $27 a year to run, so over ten years you're saving roughly $330. That's a common theme amongst top loaders: low up front cost, but higher bills down the road.
Since we're on the topic of cost, the Whirlpool Cabrio Platinum WTW8000BW has a function called Eco Boost which decreases hot water usage to lower your bills. Also, there is a fabric softener dispenser, not an uncommon bonus on top-loaders. Otherwise, fancy toys are absent on this washer.
To read more about the Cabrio's efficiency, please visit our Science Page.
Comparable Products
Before you buy the Whirlpool Cabrio Platinum WTW8000BW, take a look at these other washing machines.
Conclusion
No nonsense
If you're just looking for a washing machine that gives stains the business and nothing else, the Whirlpool Cabrio Platinum WTW8000BW is worth a look. It's got decent cleaning performance, a solid lid, and a whopping 4.5 cubic foot capacity. Given its $749.99 MSRP, this washer is a cut of cube steak: lean, inexpensive, and nothing fancy.
Our editors review and recommend products to help you buy the stuff you need. If you make a purchase by clicking one of our links, we may earn a small share of the revenue. Our picks and opinions are independent from any business incentives.