So you got a new shirt. You wear it around town and have a ball in it. But when it comes time to wash it, you haven't a clue how to clean it. Everyone just tells you to follow the directions on the tag, but then you find these puzzling hieroglyphics: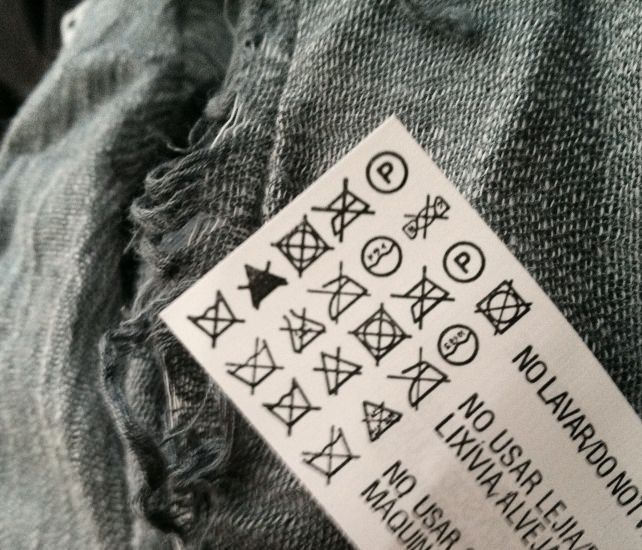 Well, maybe it's not that confusing. If you haven't already guessed, that particular tag means you can't wash that particular scarf. But the individual symbols are common enough, so let's go over what each of these little characters means.
Washing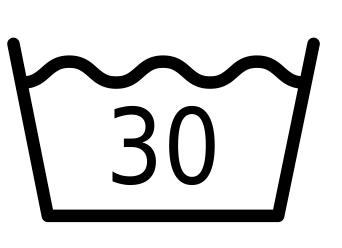 This symbol indicates which wash temperature you should use–if you can wash it at all. Because the whole system was developed by French people, that number is in Celsius. For a quick guide: 30 is wash on cold, 40 is warm, and 60 is hot.
You may also see dots en lieu of numbers. One dot equals cold, two is warm, and three is hot. Should you be in Canada, you might encounter clothes with six dots. That means you can basically boil them.
Bleach
A triangle refers to bleach. A plain triangle–like the one to the above–means any bleach can be used, including chlorine-based bleach. One with lines dividing it—like this—means only oxygen-based, non-chlorine bleaches should be used.
Drying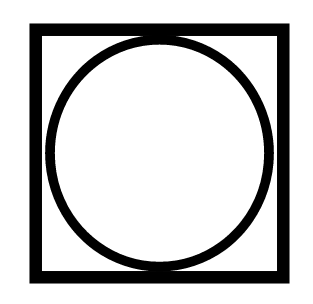 Everything you need to know about drying is indicated by this square. If the square has a circle in it, that means the article of clothing is dryer-safe. If it's just a square then you need to line dry it. Like with washing, the number of dots indicates how much heat the article in question can tolerate. Three dots means that some like it hot, and one dot means it should be relatively cool.
Ironing
Although it looks like a bent paperclip, this is the symbol for ironing. Like with everything else, more dots indicate higher heat tolerance.
Lingering Thoughts
If you can't wash, dry, or iron your clothes, you'll probably find a circle on the tag. Circles indicate that a professional needs to deal with the stains and grime. The various letters inside the circle tell your cleaner which chemicals can be used. For your own purposes, following the washer/dryer care guide is good advice for prolonging the life and durability of your clothes.
Our editors review and recommend products to help you buy the stuff you need. If you make a purchase by clicking one of our links, we may earn a small share of the revenue. Our picks and opinions are independent from any business incentives.