Although the vast majority of washers and dryers are sold in pairs, we know that some dryers are better than others. That's because we've tested hundreds of them in our labs in Cambridge, Massachusetts.
Dryers must do three things: remove moisture, keep temperatures low, and get your clothes ready to wear in as little time as possible. Many dryers do well in two of those three categories, but a select few excel in all three. Those are the machines that we recommend to our readers.
Sure, you could just pick the dryer that matches the washer you're buying. But if you want to get your laundry dry without destroying your clothes or waiting hours for them to be ready, these are the best dryers right now.
NOTE: This list is comprised of electric dryers, but you'll find a link to our review of each dryer's gas counterpart (where available) below. Though gas dryers tend to be more efficient, in general gas and electric versions of the same product should function and perform identically.
Updated January 22, 2018
Advertisement - Continue Reading Below
The Electrolux EFME627UTT dryer is great looking, has simple controls, and is rich with cycles and options. Its Quick Dry cycle completes in a mere 15 minutes. Though the Normal cycle is slow, the Heavy cycle takes only an hour. As the counterpart to the stellar EFLS627UTT washing machine that has a spot in the detergent drawer for laundry pods, this dryer is another great addition to the Electrolux laundry family.
2
The LG DLEX9000V isn't just gorgeous—it works better than any dryer we've ever tested. It doesn't come cheap, but it rocks best-in-class features, including steam cycles and a massive drum. It has no trouble with big items like comforters, and gets shirts wrinkle-free. Yes, cheaper dryers work almost as well, but this LG is still the best. Even though it's a big investment, we say its performance justifies the cost.
Where To Buy
$1,615.10
AppliancesConnection
Buy
$1,639.00
Home Depot
Buy
$1,619.99
Best Buy
Buy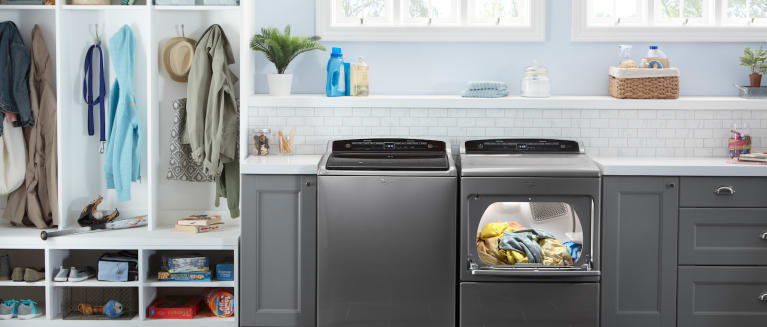 3
The Whirlpool WED7500GC dryer works speedily and gently to dry clothes. The intuitive touch control panel presents choices on the left for what to dry, and choices on the right for how to dry. You can customize the drying for each load, but you don't need to be a laundry expert to get completely dry clothes from this dryer, and if you are, you will still appreciate the clear, easy-to-use interface.
Where To Buy
$894.10
AppliancesConnection
Buy
$899.00
Home Depot
Buy
$899.99
Best Buy
Buy
4
The best word to describe the MEDB835DW is "reasonable." It's reasonably priced and it dries clothes reasonably well. We only docked points because the Normal cycle ran too hot, and the Rapid Dry only worked on a small load. But its strengths easily outpace its weaknesses. The 8.8-cu.-ft. drum, combined with the hour-long Normal cycle, will help you turn laundry day into laundry hour. See Gas Version or
Where To Buy
$894.10
AppliancesConnection
Buy
$899.00
Home Depot
Buy
$899.99
Best Buy
Buy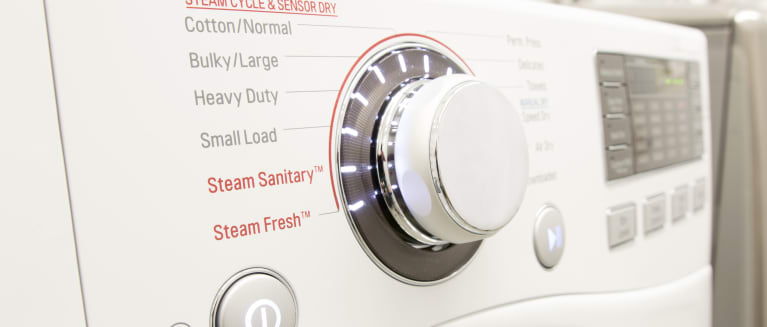 5
The LG DLEX3570W dryer is great at the basics, and it also has a host of useful extras that work. Yes, it gets a load of laundry 100% dry—but it also has quick cycles, and provides steam if you want it. It's affordable, too, and looks great whether you choose white or graphite. We only have two complaints: water for steam comes from a drawer instead of a plumbed hookup, and the smartphone app doesn't work well.
Where To Buy
$940.10
AppliancesConnection
Buy
$949.00
Home Depot
Buy
$944.99
Best Buy
Buy
Advertisement - Continue Reading Below