With over a century of experience manufacturing washing machines, it's no surprise that Maytag has become the go-to choice for shoppers on the hunt for a powerful washer. But even if you've already decided on the Maytag brand, there are plenty of options and features you should consider if you want to find the perfect machine to suit your needs.
That's where we come in. Every Maytag washer that's passed through our labs has gone through the same exacting examination by our laundry experts, separating the wheat from the chaff. Below, we've collected the five best Maytag washers available for purchase right now.
Curious to learn more about a specific Maytag model? Just click through to read the full review.
Updated January 05, 2018
Advertisement - Continue Reading Below
The MHW8200FC is Maytag's flagship front-loader. It has PowerWash, which is one of the most effective cycles in the residential market. The Optimal Dose feature lets you store up 12 loads worth of detergent in a single go. Last, but not least, Fresh Hold keeps your laundry from getting musty, so you can have a load laundry going while you're at work and not have to worry about mildew on your clothes.
2
The Maytag MHW3505FW front-load washer balances an affordable price with premium features. The 4.3-cu.-ft. washer features a Sanitize cycle and steam, both of which make it a good fit for families, and super-low sale prices mean you can get both this washer and its matching dryer for under $1,100. Even better: Our tests show this Maytag does a good job cleaning clothes, and it won't run up your utility bills, either.
Where To Buy
$809.10
Home Depot
Buy
$809.99
Best Buy
Buy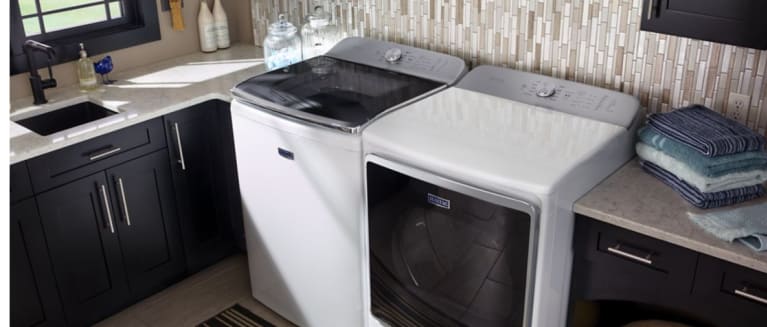 3
The Maytag MVWB955 is what happens when washing machine companies get into a size war. The 955 is Maytag's ringer, coming in at 6.2 cu. ft.–easily able to hold an entire family's laundry. But an immense capacity is not the only thing that Maytag is bringing. The 955 also packs a punch, utilizing Maytag's famed PowerWash system, one of the most powerful on the market.
Where To Buy
$1,164.10
AppliancesConnection
Buy
$1,169.10
Home Depot
Buy
$1,169.99
Best Buy
Buy
4
While other appliances are stuffed with extraneous bells and whistles, the Bravos MVWX655DW provides a straightforward user experience and powerful cleaning capability, all at a very low price. It's not super efficient, but then most top-loaders aren't. If you're okay with minimal frills—like soft-close hinges and a PowerWash cycle—and don't have high utility costs, this machine should capably handle all of your needs.
Where To Buy
$714.10
AppliancesConnection
Buy
$719.10
Home Depot
Buy
$719.99
Best Buy
Buy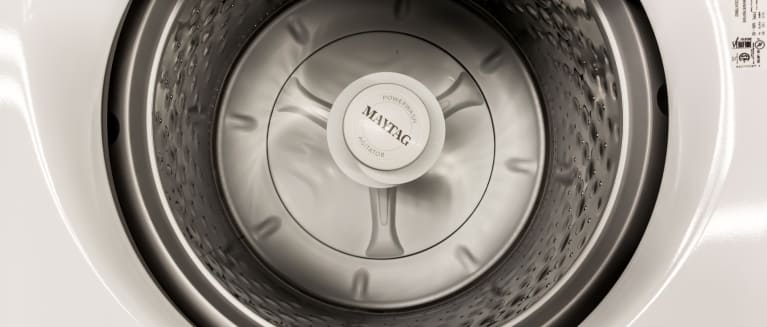 5
Prefer a top-loading washing machine with an agitator? Here's one to clean super-sized loads. Its PowerWash cycle got rid of stains better than the competition.
Where To Buy
$804.10
AppliancesConnection
Buy
$809.10
Home Depot
Buy
$809.99
Best Buy
Buy
Advertisement - Continue Reading Below