Although the vast majority of washers and dryers are sold in pairs, we know that some dryers are better than others. That's because we've tested hundreds of them in our labs in Cambridge, Massachusetts.
Dryers must do three things: remove moisture, keep temperatures low, and get your clothes ready to wear in as little time as possible. Many dryers do well in two of those three categories, but a select few excel in all three. Those are the machines that we recommend to our readers.
Sure, you could just pick the dryer that matches the washer you're buying. But if you want to get your laundry dry without destroying your clothes or waiting hours for them to be ready, these are the best dryers right now.
NOTE: This list is comprised of electric dryers, but you'll find a link to our review of each dryer's gas counterpart (where available) below. Though gas dryers tend to be more efficient, in general gas and electric versions of the same product should function and perform identically.
Updated February 15, 2017
With a lengthy list of cycles, top-notch fit and finish, steam, a huge 8.8-cu.-ft. interior, and excellent performance, the MEDB855DW impressed in every way. Its giant drum is perfect for handling larger loads, cutting down on time spent in the laundry room, and its drying rack is great for those items you can't just toss inside and forget. If you're looking for outsized performance and capacity, look no further. See Gas Version or
Where To Buy
$999.00
Home Depot
Buy
$989.99
Best Buy
Buy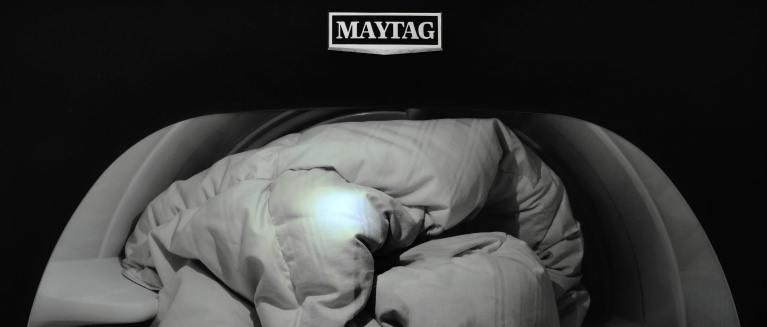 2
The best word to describe the MEDB835DW is "reasonable." It's reasonably priced and it dries clothes reasonably well. We only docked points because the Normal cycle ran too hot, and the Rapid Dry only worked on a small load. But its strengths easily outpace its weaknesses. The 8.8-cu.-ft. drum, combined with the hour-long Normal cycle, will help you turn laundry day into laundry hour. See Gas Version or
Where To Buy
$804.10
AppliancesConnection
Buy
$819.00
Home Depot
Buy
$809.99
Best Buy
Buy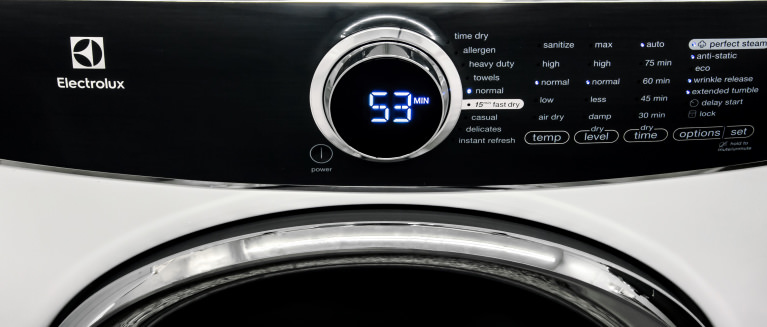 3
The Electrolux EFME617SIW earns our unconditional recommendation. Broad and useful cycle list? Check. Customizable options? Check. Huge 8-cu.-ft. stainless steel drum? Check. And to top things off, it not only dries clothes, but dries them at cooler temperatures than almost every other model we've tested. And it's affordable, too.
Where To Buy
$999.00
AppliancesConnection
Buy
$899.00
Home Depot
Buy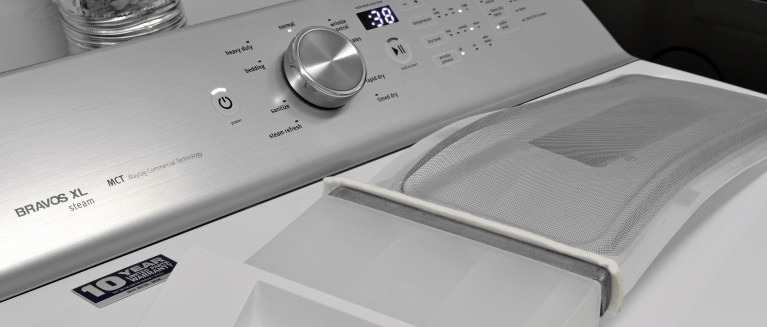 4
The Maytag Bravos MEDB755DW won't just get your clothes dry—it also gives you options on how to get the job done. One of the least expensive dryers to offer a steam cycle, other features include a 15-minute Rapid Dry and multiple sensor-based cycles. A 7.0-cu.-ft.-drum isn't the largest on the market, but it's plenty big to get a down comforter dry.
Where To Buy
$669.10
AppliancesConnection
Buy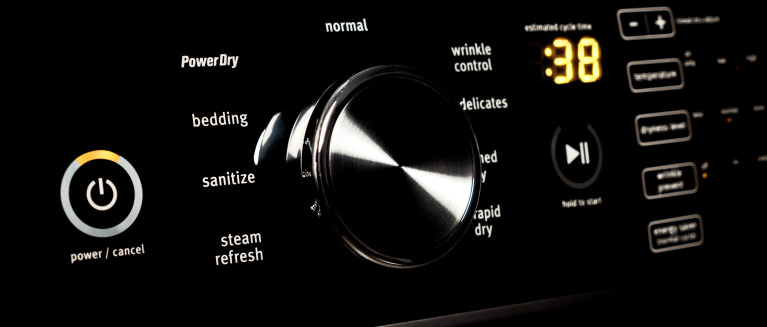 5
The Maytag 5500 series dryer matches the company's front-load washers. It may cost about $400 less than the manufacturer's flagship model, but it offers almost all the same perks. You get a broad range of cycles and features and great moisture removal—plus Maytag's great Power Dry function, which uses more heat and more time to get truly tough fabrics dry. If you wear a lot of work clothes, Power Dry is a great fit.
Where To Buy
$984.10
AppliancesConnection
Buy
$999.00
Home Depot
Buy
$989.99
Best Buy
Buy