Not every home has room for a full-size washing machine. If you live in a small space, you probably end up taking a weekly trip to the local laundromat. If this sounds frustratingly familiar, there's a way you can reclaim these lost hours—so long as you're willing to accept a few compromises.
Despite their small size, compact washers sometimes offer performance that matches—or even exceeds—that of their full-size counterparts. You'll have to wash smaller loads, and they'll take a bit longer than you're used to, but that's a small price to pay to avoid lugging your laundry down the street.
Keep in mind: None of these solutions are plug and play. You'll still need a water supply, a drain, and (in some cases) a 220-volt electrical hookup. If you live in an apartment or condo, you may also need approval from your landlord or homeowner's association.
With all these restrictions in mind, we spent months researching and testing a variety of compact washers to see which ones could remove stains like a full-sized washer at a reasonable price.
If space is at a premium and you're tired of lugging your laundry around, compact washers, like the Electrolux EFLS210TIW (available at Home Depot for $798.30), get the job done.
Updated January 16, 2018
Electrolux EFLS210TIW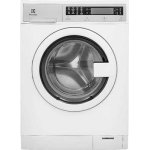 Where To Buy
$798.30
Home Depot
Buy
Electrolux EFLS210TIW
Best Overall
It's not surprising that the Electrolux EFLS210TIW took the top spot. Electrolux makes some of our favorite front-loading washers, including the award-winning 617 model.
With a 24-inch-wide body and a 2.4-cu.-ft. capacity, the EFLS210TIW can stand toe-to-toe with any of its compact competitors. In fact, this washer could take on full-sized models too. We liked the fact that this washer doesn't waste time. The Normal cycle is around an hour and fifteen, Heavy Duty is less than an hour, and Fast Wash lives up to its name, finishing in 21 minutes.
The cleaning performance of the EFLS210TWI is on par with other washers on this list. The only down side with the EFLS210TIW is with its accompanying dryer, the Electrolux EFDE210TIW. The dryer has issues with comforters, meaning you may need to take trips to the laundromat for heavy-duty items.
If you line dry or are willing to mix-and-match laundry sets, you should seriously consider getting the compact Electrolux EFLS210TIW.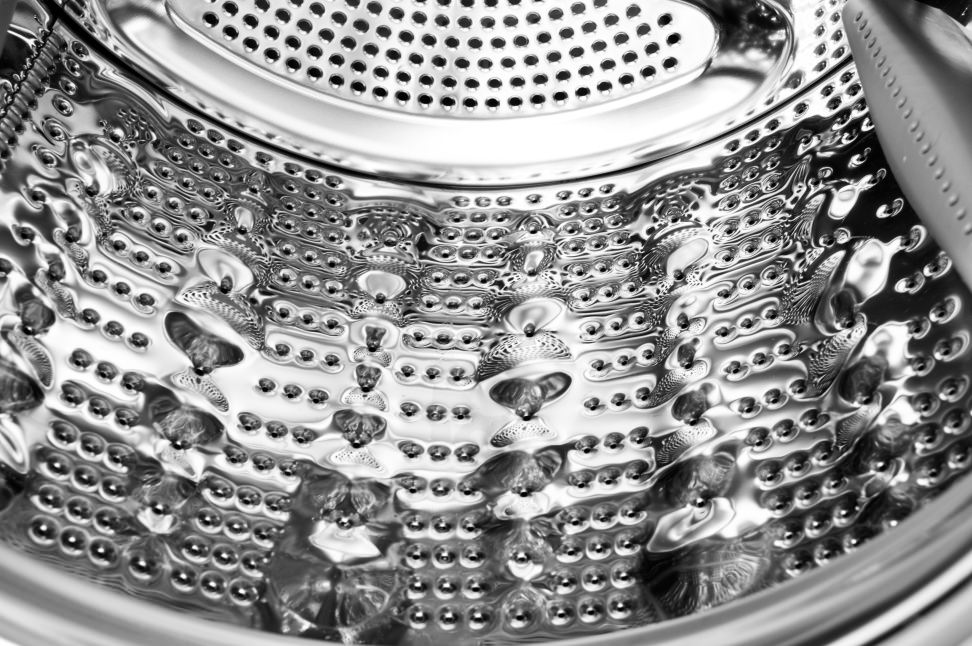 LG WM1388HW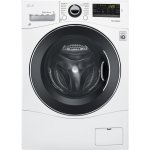 Where To Buy
$899.10
Home Depot
Buy
$899.99
Best Buy
Buy
LG WM1388HW
Best Pair
The LG WM1388HW is a great compact washer for a family that has limited space, emphasis on the word family. It's clear from the cycle selection and control layout that this LG was designed to be a supplementary washer for new parents. You might scoff at the idea of shelling out an additional $999 just to clean your kid's clothes, but if you're considering using cloth diapers, you might change your tune.
The WM1388HW has a powerful Sanitary cycle aided by an internal water heater, meaning germs on security blankets and those cloth diapers don't stand a chance. When you combine the high temperatures with a highly-textured steel drum, you get a washer that is tough on stains, and gentle on laundry.
We were a little disappointed at how slow this machine is. Even the Speed Wash took over an hour. While this isn't out of the ordinary for a compact washer, it is surprising, given that full-sized LG washers have a feature called TurboWash, which creates cycles that are some of the fastest in the industry.
For those willing to wait on the washer, accompanying dryer is a deal maker. The LG DLEC888W got a comforter 99.7% dry in just an hour an fifteen minutes, a feat many full-sized dryers struggle with. Combine these two together, and you really can stop going to the laundromat, and put up your feet in your tiny home.
How we test
The Tester
I'm Jon Chan, and I tested all these compact washers, along with a few hundred other laundry machines. Over the years, my testing and reviewing philosophy is centered around: performance, value, and usability. To this end, washers that I recommend have to do something exceptional in two of these categories, while offering something in the third.
The Tests
GE GFW148SSLWW
Where To Buy
$899.10
Home Depot
Buy
$899.99
Best Buy
Buy
GE GFW148SSLWW
When you think GE washing machines, you typically think of traditional top loaders. However, the GE GFW148SSLWW shows that the storied American company can make a competent front loader, and a compact at that.
In terms of cleaning, the 148 washer ranks in the middle of the pack and every feature it has is found on other models. However, activating those features is more simple on this GE. Want to wash with steam? Just turn the dial to the Casual With Steam or Stain Wash With Steam cycle, and you're good to go. Simplicity with an American slant is what you're going to get with this compact washer and its accompanying dryer, the GE GFT14ESSLWW.
Bosch WAT28401UC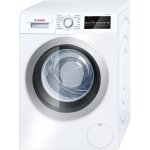 Bosch WAT28401UC
Amongst the compact washers we've tested, the Bosch WAT28401UC has the most European of sensibilities. For example, this Bosch has two different Permanent Press cycles, and uses a specialized 220V plug. Quirks aside, the 28401 proved to have exceptional German engineering. It had the best stain removal of any of the compact washers we've tested. That's unsurprising since the internal water heater is capable of reaching temperatures of close to 170°F.
We similarly were impressed by some of the 28401's features, namely SpeedPerfect. During testing, we found that engaging SpeedPerfect knocked off about 15 minutes from selected cycles, but still got our test laundry just as clean. The catch is that it spun faster and used about 23 percent more water.
While the 28401 was the best performing washer, we'd have a hard time recommending it over other options. First, that specialized plug we mentioned earlier, plugs into the Bosch WTG86401UC dryer. That requirement limits where you can put your laundry units and what you can buy as replacements. Also, the 28401 is the most expensive washer on this list, while offering 10 percent less capacity. So, if money is no object, the Bosch is a good choice, but otherwise try going with the Electrolux or LG.