laundry
Asko W6424 Review
Asko has a new owner, but the attractive W6424 compact washer hasn't changed in years.
$1,349.00 MSRP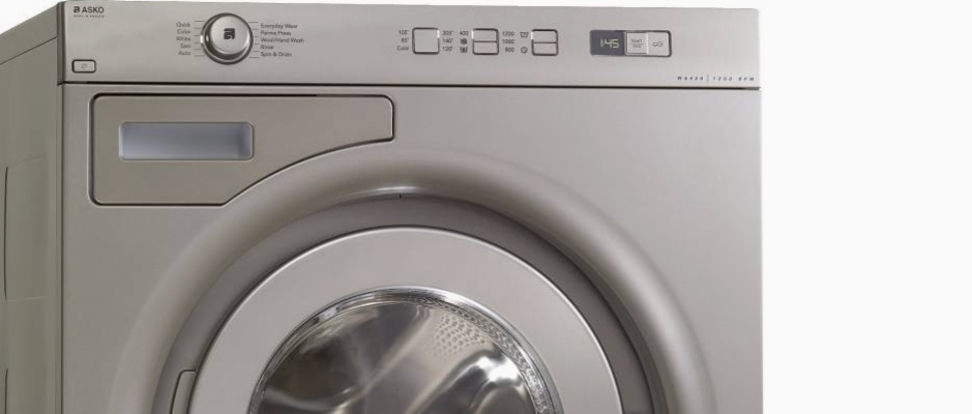 Introduction
When we tested the Asko W6424T compact washer (MSRP $1,630) in 2012, the Swedish company was best known in the US for its high-end washers, dryers, and dishwashers. Today, Slovenian appliance manufacturer Gorenje is Asko's parent company. Although production has moved from Sweden to Slovenia, the design remains basically the same.
Retail prices hover north of $1,400 for the silver-toned W6424T, and slightly less for the W6424W. While that makes it one of Asko's least expensive units, it's hundreds of dollars more expensive than other compact, stackable European-style washing machines from Bosch, Electrolux, Ariston, and Blomberg.
Unlike many of its competitors, the W6424 is designed to be installed in a kitchen, and an extremely stylish machine—although its user interface suffers as a result. It cleans as well as its competitors, but its performance doesn't offer any compelling reason for a consumer to pay so much. It's not a bad washer, but it's not a very good value, either.
Design & Usability
The Asko W6424 emphasizes style over substance.
Outside of the US, it's common to have a washing machine in the kitchen, which explains why the W6424 is so good looking. Tiny controls are about form, not function, and the electronically-operated door is a real pain. Unfortunately, the Asko W6424's small door means that it's pretty hard to load laundry, too.
The W6424 runs on a 220V current.
As with all compact machines, fitting in a standard eight-pound load requires some maneuvering, which we found frustrating. Washing a larger load would be almost impossible. It's also important to note that the W6424 runs on a 220V current and features a special plug that's designed to fit into a compatible Asko dryer. Unless you're an electrician, you'll need a dryer and a 220V outlet nearby.
Performance & Features
All cycles take a while to complete, and cleaning performance is only slightly above average.
Other compact washers cost less money.
The Asko proved to be moderately disappointing. While we don't expect compact washers to perform as well as their full-size counterparts—most of them take a long time to complete cycles—most of them sell for under $1,000. This $1,400+ machine didn't add any performance boost over machines that have the same footprint but a smaller pricetag.
Per the owner's manual, we used the "Auto" cycle for a normal clothes wash. It took over two hours to complete, though it got clothes extremely clean. If you don't have that kind of time, we'd recommend using the Perma Press or even Quick cycle for most normally soiled laundry loads. For more soiled loads, the Heavy/White cycle may be more productive. It may have taken nearly two and a half hours, but it was the best our Asko had to offer.
On the features front, we were especially impressed by the Asko W6424's temperature options, which range from tap-cold water to a 205ºF sanitizing cycle. Unlike many other washers we've tested, the Asko's promised temperatures matched what we observed.
Comparable Products
Before you buy the Asko W6424, take a look at these other washing machines.
Conclusion
The Asko W6424 may be attractive enough to install in a kitchen, but its price didn't match its good looks.
There are many other compact washers on the market to choose from that will get your clothes just as clean.
Though one would expect a lot from a washer that sells for more than $1,400, this compact Asko didn't outclean its less attractive competitors.
In addition to its Scandinavian design, we were impressed by the W6424's energy efficiency, but again, the cost savings per wash could never make up for Asko's price premium.
About the only thing low-cost about this appliance is how much you'll pay per wash. Thanks to an internal water heater, the Asko only draws cold water, though it can bring it up to as warm as 205ºF. But unless you value appearances, there are many other washers on the market to choose from that will get your clothes just as clean, leaving your bank account unscathed.
Our editors review and recommend products to help you buy the stuff you need. If you make a purchase by clicking one of our links, we may earn a small share of the revenue. Our picks and opinions are independent from any business incentives.