laundry
Electrolux EIFLS60LSS Washing Machine Review
The Electrolux EIFLS60LSS brings substance alongside subdued elegance.
$1,399.00 MSRP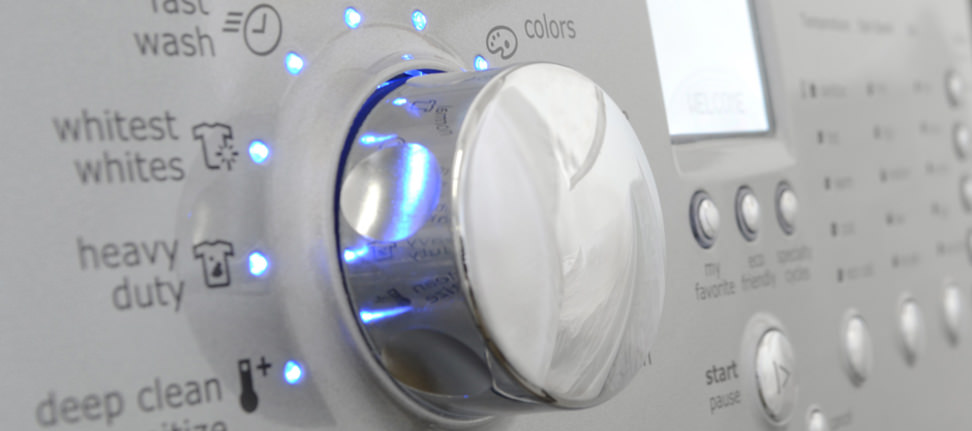 Introduction
The $1,399 MSRP Electrolux EIFLS60LSS plays second banana to the company's flagship washing machine, the $1,499 EWFLS70JIW.
Despite its slightly lower price and smaller feature set, the '60 is still stylish enough that you could put it in your living room. We'd recommend against that, mostly because its spin cycle sounds like a jet plane taking off. The noise violation is worth it, though, because it gets your laundry clean. The performance soars particularly high when it's cleared for Heavy Duty and Normal wash cycles.
This Electrolux isn't for everyone, though. In fact, it's best for people with fat wallets, or at least high credit card limits. At least it'll get you high-end features like the ability to add steam, plus speciality cycles for items as specific as pet bedding and jeans. For the EIFLS60LSS, you'll pay a lot, but you'll get a lot.
Design & Usability
Colored sand blasted grey, the EIFLS60LSS is a compromise between enamel white and stainless steel.
As with all their washers and dryers, Electrolux once again went for a seamless approach when it came to design. Everything that can recede does so, from the cycle selector knob to the sheer sides with no handles. Even the back comes with plugs that cover up the vacant areas left by removing the shipping bolts. Everything is where it should be. Using this Electrolux was an exercise in intuition. Pushing any button will bring it life as will turning the cycle selector knob. And that 4.3 cubic foot capacity made maneuvering even the largest loads a breeze.
It's not all streamlined, however. One of the only differences between the '60 and the '70 is the user interface. Where the EWFLS70JIW has a series of hidden menus, most of the EIFLS60LSS's option buttons serve dual purposes. You can only access a button's secondary purpose by holding down the option button, and we felt like some of the options should have been reversed. For instance, we'd rather turn on the light inside the washer with a single button press rather than engage an option that's secondary to stain treat. Also, the washer emits a strong floral smell because Electrolux impregnated the door gasket with deodorant. It's to help combat the mildew smell many front-loaders get when users leave them closed after a wash, but it smelled a bit like the kind of room deodorizer that gets used in hospitals and nursing homes.
Performance & Features
I've got a fever and the only prescription is more clean laundry
Like its big brother, the Electrolux EIFLS60LSS boasted some impressive cleaning scores. Organic stains stood no chance against this washing machine. The Normal cycle performed better than average all across the board by leaps and bounds. It took 44 minutes to complete which is par for the course. The Fast cycle was the poor performer, but it made up for the lack of performance by lasting only 15 minutes. In fact, all the cycles on this washer were lean, no bloat here. The longest was the Deep Sanitize cycle, which reached 148ºF and took an hour and a half to complete. Luckily, this washer doesn't use a lot of energy or hot water. We estimate that the yearly running cost to be around $27, which makes it one of the most efficient machines on the market.
Though it may be a superhero when it comes to washing, the EIFLS60LSS's origin story lacks any mutations when it comes to special features. It's got the ability to add steam or rinse clothes with fresh water, but that's par for the course when you're paying more than $1,200. It also claims to be "Luxury-Quiet," but we heard it loud and clear in our noisy labs.
Comparable Products
Before you buy the Electrolux EIFLS60LSS, take a look at these other washing machines.
Conclusion
If you're paying full price, the Electrolux EIFLS60LSS will cost you $1,399. That's a hefty investment, but you'll get what you pay for with this machine. Washing performance is above average, and it's efficient enough that your lower water bills may help pay for a pricey initial purchase when compared to a cheaper, thirstier machine. When it comes to features, it's got everything its high-end competitors have, but nothing particularly special. We could nitpick about minor faults, but this machine looks good and cleans your clothes. Style and substance is a rare combination these days, but this Electrolux has it.
Our editors review and recommend products to help you buy the stuff you need. If you make a purchase by clicking one of our links, we may earn a small share of the revenue. Our picks and opinions are independent from any business incentives.