laundry
Electrolux EWMED70JIW Dryer Review
This Electrolux is more than it appears.
$1,449.00 MSRP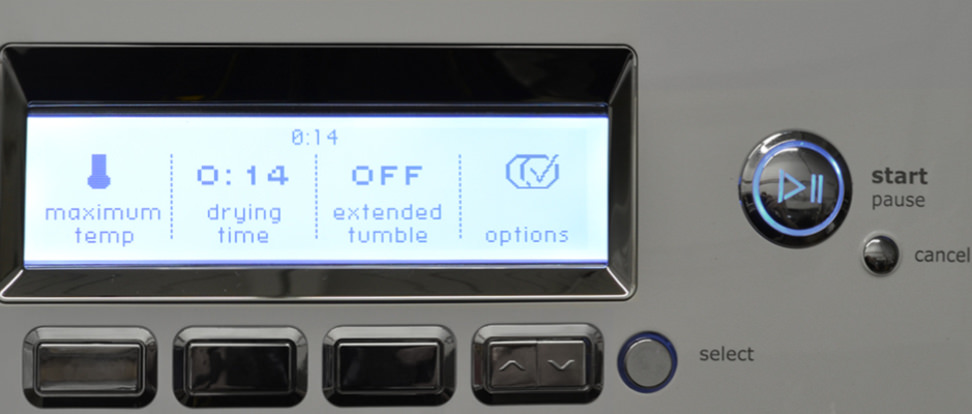 The Electrolux EWMED70JIW (MSRP $1,549) is one of the most effective and highly customizable dryers we've ever tested. It's a high-end, stackable machine that should be at the top of your shopping list if you're serious about laundry. While its trick door and user interface may require a bit of getting used to, the EWFLS70JIW's capacity, performance, and features are unimpeachable. We highly recommend it.
Design & Usability
Buttons, knobs, and pixels, oh my!
This dryer has a standard enamel finish that the manufacturer has dubbed "Island White." A smooth exterior that uses pop-out knobs and stainless trim gives this Electrolux an elegant, modern look. The lack of a door handle polarized our lab staff. Thanks to a spring-loaded hinge, you can open the door just by pressing the handle area with your hip or knee, but it can sometimes be difficult to find the "sweet spot" that actually opens the door.
The cycle select lists the primary eleven options, but a twelfth serves as a "gateway" selection to customized cycles and a whole different list of choices—kind of like the UHF setting on an old TV. The knob moves with easy fluidity and pops in and out for when you need to use it, and the cycle symbols are lit with a blue glow when selected. If you're a fan of whimsical flourishes, keep an eye on the display while the dryer is working: tiny digital bubbles float up and away while your clothes tumble.
We suggest you give the manual a once-over.
The controls may look simple, but thanks to buttons that perform multiple functions and a whole hidden set of dryer cycles, we suggest you give the manual a once-over. The layout itself feels just fine; where it fails is in its attempt to cram more functionality into a smaller space. The four rectangular buttons that you use to select cycle options have no labels because their function changes depending on what's displayed on the digital monitor. You have to wait for the read-out to change whenever you press a button to alter something, and there is a slight lag.
Performance & Features
Solid work and endless choices
Even if we found the control panel a bit hard to get the hang of, we can't argue with a machine that gets a normal load of clothes dry in under an hour at a reasonable temperature. And an effective Bulky cycle deserves the highest praise. The cycles stop just short of bone dry, which prevents wrinkles and makes ironing easier. You'd be hard pressed to find a machine this competent when it comes to getting clothes ready to wear.

And that's just on the sensor-based cycles! Laundry micromanagers have a plethora of specialty programs and options to choose from. There are cycles that sanitize clothes for children, that dry pet beds and rubber-backed bath mats, and that handle loads comprised only of jeans. There's even a Kramer-approved cycle that heats up cold clothes.
In total, the Electrolux offers seven different temperature settings and five dryness levels:, but you'll only be able to choose from among the ones that fit the specific load type. Drying time can only be adjusted for the Time Dry cycle, moving in 15 minute increments for a duration limit of an hour and a half. If you plumb the EWMED70JIW into your water supply, you also get steam cycles. And a drying rack is included for delicates that can't take a tumble.
Comparable Products
Before you buy the Electrolux EWMED70JIW, take a look at these other laundry.
Conclusion
This dryer is downright luxurious
At its core, the Electrolux EWMED70JIW is a high-end dryer with superb performance. Even if it didn't come with a whopping 20 cycles, we'd still be impressed at how quickly it dried a normal load of laundry, how gently it dried delicates, and how effectively it dried a comforter. In fact, it's so good that we're willing to overlook a somewhat convoluted user interface and a polarizing press-to-open door.
Not everyone needs this kind of power and customizability. But if you're the type of person who irons pillowcases and starches collars, this is the dryer for you.