laundry
Kenmore Elite 41072 Washing Machine Review
They can rebuild it. They have the technology.
$989.99 at Sears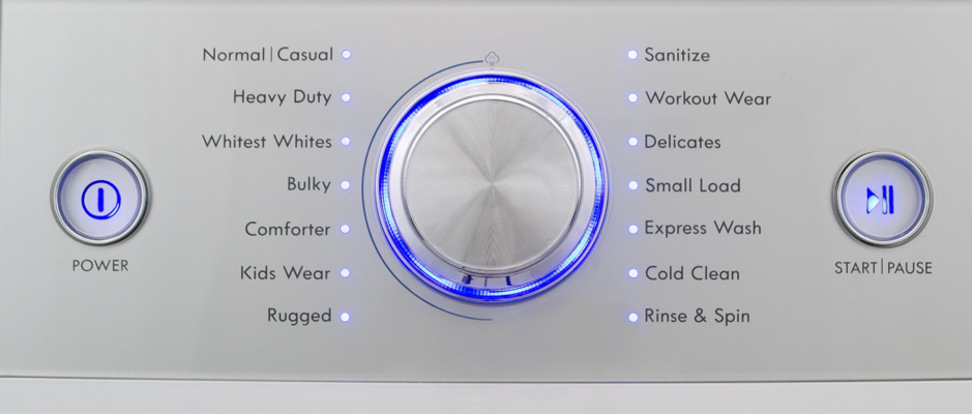 What do the 1982 version of The Fly and the Kenmore Elite 41072 (MSRP $1649) have in common? They're both remakes that are better than the original. This Kenmore is based on LG's absolutely massive WM8000HVA, with a little input from Sears' in-house brand, Kenmore.
Those notes must've made a difference, since the 41072 matches the LG for cleaning performance and—we think—improves on its user interface. Thankfully, it still has the giant, 5.2 cubic foot drum, the largest available to consumers. It also has Kenmore's Accela-Wash (based on LG's Turbo Wash), which can clean an eight pound load of laundry in 38 minutes.
Design & Usability
You'll appreciate the straightforward design.
Kenmore's dial-and-button-based user interface is straightforward and highly intuitive. Big fonts are easy to read, and bright lights will help in a dark laundry room. We only had one complaint: Several of the control panel's buttons serve two functions, and the small lettering used for the secondary options is a little hard to read. For the most part, these secondary functions are rarely used for standard loads of laundry, so this shouldn't be too much of an issue.
Size is the Kenmore 41072's biggest asset, but it may not be welcome in some homes. Having a 5.2 cubic foot interior that can easily fit 16 pounds of clothing means you get to clean vast amounts of laundry at once. However, there's a chance it may not fit into your laundry room: at about 29 inches wide, 34 inches deep, and 41 inches tall, it may stick out beyond a doorway. The deep drum may also make it difficult for shorter consumers to reach in and retrieve that last renegade sock.
Performance & Features
At 233 pounds, this Kenmore packs a one-two combo.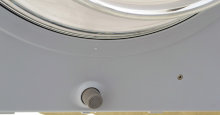 If you're washing under eight pounds of laundry at a time, then the Kenmore packs speed and power. The Normal cycle, which engages Accela-Wash, took only 38 minutes, powered through stains, and spun out plenty of excess water. We couldn't ask for anything better.
The Heavy-Duty cycle proved itself to be the most powerful tool in the 41072's repertoire. It had no trouble with any of the stains we threw at it. Even the Express Wash impressed. It took only 15 minutes, and cleaned well enough to refresh a few shirts or pillowcases.
As far as features go, the Kenmore 41072 did not leave us wanting. Accela-Wash is the major winner here, as it changes up the spray pattern to power through relatively light loads of laundry in around half the time some other machines take. But be aware: If you're washing a larger load, the machine takes a lot more time, much of it devoted to rebalancing laundry before a spin cycle. Stuffing the 41072 with 16 pounds of laundry resulted in an hour long wait. In addition to Accela-Wash, we liked the drum light, the ability to add steam to select cycles, and Stay Fresh—a feature that keeps laundry tumbling after a cycle is over to keep it from getting musty.
For in-depth performance information, please visit the Science Page.
Comparable Products
Before you buy the Kenmore Elite 41072, take a look at these other washing machines.
The Verdict
For those with the space and the laundry, the 41072 will fit your needs.
If you're looking for a machine that can handle all your laundry at once, the Kenmore 41072 may be what you're looking for. With a 5.2 cubic foot capacity, no other contenders can match its size, save for the LG WM8000HVA on which it is based. Quick cycle times for moderately sized loads and powerful cleaning performance make this a machine to be reckoned with. Features like Stay Fresh and the drum light are just icing on the white-metal-and-chromed-plastic cake.
The 38-minute Normal cycle managed to cut through plenty of stains, though Accela-Wash didn't help with larger loads. But if time isn't an issue, the Heavy Duty cycle should more than suffice. In just over an hour and a half, it cleaned laundry with ease.
Based on our tests, the 41072 lives up to its Elite title. It's rare that a washer combines size, speed, and strength into one package, but thanks to a smart partnership with LG, Kenmore has created a laundry behemoth. Whether you choose the 41072 or the nearly identical WM8000HVA depends on availability and sale pricing. Either one is a good choice.
Our editors review and recommend products to help you buy the stuff you need. If you make a purchase by clicking one of our links, we may earn a small share of the revenue. Our picks and opinions are independent from any business incentives.