laundry
Kenmore Elite 41472 Washing Machine Review
The high-end Kenmore Elite 41472 speeds through loads quickly and efficiently—at a price. At over a thousand dollars, it's still worth it.
$1,299.99 MSRP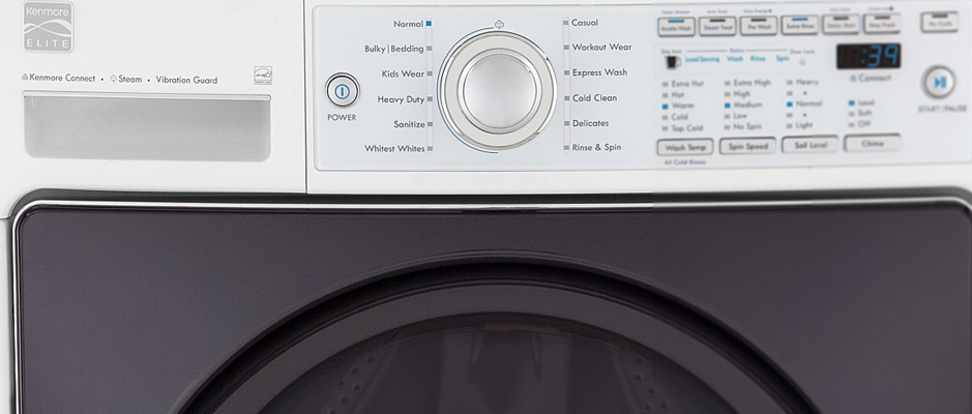 Introduction
The Kenmore Elite 41472 is a high-end washer that can get a load of clothes remarkably clean in 38 minutes. Yes, it's pretty expensive ($1299 MSRP, around $1150 on sale), but consider that the Kenmore's Accela-Wash will save you about 20 minutes over comparable machines on every normal cycle. If you do three washes a week, that's an hour of free time a week for you to do something other than laundry;and more than 10 days of extra time saved over the course of five years.
Design & Usability
This LG WM3470HVA clone has a lot of buttons, but they're easy to use.
You may notice that the Kenmore Elite's Accela-Wash sounds quite familiar. That's because it's based on LG's Turbo Wash feature; the 41472 is essentially a Sears-only redesign of the LG WM3470HVA. Either way, we found that we liked the Kenmore a little better.
Though the Kenmore Elite 41472 has a myriad of features and cycles, they're all displayed with a refreshing clarity that its LG predecessor lacks. On the selector, each cycle name is well-spaced and has its own indicator light, unlike the crowded dial on the LG. The push-to-open door saw improvement too, though it's not larger than the original. We had no problem opening or closing this door, even with a knee and a light push.
Performance & Features
The extremely fast Normal wash also has exceptional stain removal. Other cycles clean just as well, but take much longer.
The Kenmore Elite 41472 can get a Normal cycle done in just 38 minutes, which is just exceptional. That kind of speed is possible because Kenmore uses the same Turbo Wash technology found in the LG WM3470HVA, injecting detergent in a special spray pattern that promises to save about 20 minutes per wash. The only difference is the name: Kenmore calls it Accela-Wash.
The Kenmore Elite 41472 can get a Normal cycle done in just 38 minutes.
Also remarkable is that the reduced duration doesn't hurt performance. This washer did an incredible job getting out stains in less time than it took to make that pasta dinner you spilled on your shirt in the first place. Plus, it's just as efficient as other machines we've tested.
Comparable Products
Before you buy the Kenmore Elite 41472, take a look at these other laundry.
Conclusion
Think of Sears as a DJ. When they're up in the booth, they're known as Kenmore, remixing already-hot tracks from well-known appliance manufacturers.
This is a great choice for anyone who doesn't want to wait more than 38 minutes for clean clothes.
Kenmore's latest and greatest release so far is the Kenmore Elite 41472. They laid down an improved control panel over LG's WM3470HVA and renamed the rapid wash cycle Accela-Wash. The result is a good looking washer with excellent stain removal performance.
It costs a bit more than the LG, and isn't the gentlest on delicate clothing, but it's a great choice for anyone who doesn't want to wait more than 38 minutes for clean clothes.
Our editors review and recommend products to help you buy the stuff you need. If you make a purchase by clicking one of our links, we may earn a small share of the revenue. Our picks and opinions are independent from any business incentives.