laundry
Samsung WA50F9A8DSP Washing Machine Review
The Samsung WA50F9A8DSP is ready to rumble.
$1,199.99 MSRP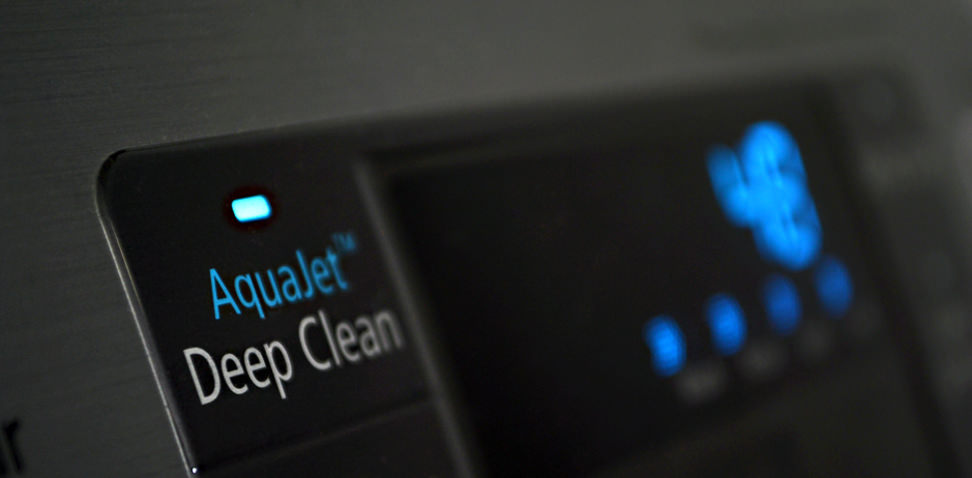 Introduction
Editor's Note: On November 4, 2016 Samsung announced a voluntary recall to address consumer complaints about washers experiencing catastrophic failure during spin cycles. You can learn more about that recall here.
Certain serial numbers of this model may be affected by this issue. As such, we have chosen to rescind our Editors' Choice award for this product until we have more information on Samsung's plans to remedy the situation.
And in this corner, weighing in at 142 pounds and 5 cubic feet of capacity, the Samsung WA50F9A8DSP (MSRP $1,199.99). I'm telling you, this Samsung is tough. And its capacity means it'll knock down more stains than the competition. Top-loaders may be old, but this washer has learned new tricks, including a dozen cycles and plenty of features. Stains are going to have a rough time here at the Laundry Lab tonight. Let's take it down to Jon Chan in Design and Usability.
Design & Usability
Large, but not overwhelming
Thanks, Jon. It's getting awkward down here tonight as I write about myself in the third person. At 29 inches deep, this washer takes up a little more space than the traditional, 27-inch top-loader, but it will still fit into most laundry closets. The features buttons are designed for light tapping, but for some reason you will have to hit pretty hard when selecting temperatures, or else your punches won't register. Overall, this top-loader operates like any other: turn the knob, press the start button. In fact, aside from some fancy trim, the design is essentially the same as Samsung's other new top loader, the WA456DRHDSU. Also, it should be noted that you can take off $100 off the MSRP should you prefer a plain white machine (its model number is WA50F9A6DSW) over a stainless platinum one. Sale prices may bring your total cost below $800.
Performance & Features
Has Predictable Moves, No Haymakers Here
None of the cycles on Samsung's WA50F9A8DSP proved to be barn burners. The Heavy Duty cycle proved best, doing as well as other machines with lower capacities. The Normal cycle came in second place, but it fell a bit below average. It's hard to get even cleaning out of a huge washer drum, so we weren't surprised. Our standardized tests dictate that we use the same load in this machine as in smaller ones, so we don't know if filling it to the brim would improve performance.
There are few contenders that can handle this much laundry
Focusing on pure performance misses this machine's biggest draw: its sheer capacity. There are few contenders that can handle this much laundry, including GE's GTWS8650DWS. The GE beats the Samsung on features—it's got an automatic detergent dispenser, for example—but the Samsung edges out the GE on performance.
Comparable Products
Before you buy the Samsung WA50F9A8DSP, take a look at these other washing machines.
Conclusion
Samsung's WA50F9A8DSP really earns its moniker of Super King Sized. While the words "Super King" bring to mind thoughts of a flying Elvis, it aptly describes this washing machine. It's not the most effective machine on the market, but its massive capacity and sub-$800 sale price (if you buy one finished in white) makes it ideal for big families or anyone with lots of laundry to do.
Our editors review and recommend products to help you buy the stuff you need. If you make a purchase by clicking one of our links, we may earn a small share of the revenue. Our picks and opinions are independent from any business incentives.